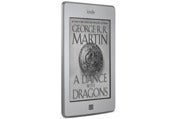 Will the next generation of Amazon's Kindle eReaders feature a dramatic innovation, possibly a color or lighted display? Recent rumors suggest significant changes are coming for the venerable e-reader, which currently has an e-ink display without backlighting or color.
Why now? A possible explanation is that eReader sales aren't what they used to be. A March report from Digitimes Research predicted that global shipments of e-readers would reach just 2 million units in the first quarter of 2012–a huge drop from nine million shipments in Q4 2011.
Consumers, it appears, are opting for color tablets instead, a phenomenon that Digitimes Research calls a "substitution effect."
Let There Be Light
The latest Kindle display rumor comes to us courtesy of TechCrunch's Devin Coldewey, who says he got a sneak peek at Amazon's next-generation eReader with a "glowing" display. Coldewey, who lives in Seattle near Amazon's offices, says the front-lit Kindle will debut later this year. He writes:
"The device I saw was crudely camouflaged in a sort of cardboard enclosure, but the screen was clearly visible. With a tap, a slider popped up on the screen, and as it was dragged to the right, the screen lit up evenly with a rather cool light. In the dark, it was plainly noticeable as a glow, and in uneven light — say, shade or a shuttered room — the slight illumination made the screen much more readable."
At Long Last…Color?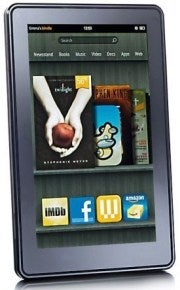 The Chinese-language Economic Daily News reported in February that electrophoretic display (EPD) maker E Ink Holdings had received an order from Amazon to build millions of 6-inch color eReaders.
A color e-Ink Kindle would target a different user demographic than the popular Kindle Fire, which has a 7-inch color LCD and is designed for tablet-style activities like gaming and video streaming–two uses poorly suited for today's non-backlit, monochrome e-paper displays with very low refresh rates.
A color e-Ink screen might make the Kindle more appealing to readers (and publishers) of children's books, graphic novels, and textbooks.
The Future Is Flexible
The next-gen Kindle likely won't incorporate something as cutting-edge as a bendable display, but we may soon see flexible eReaders from Amazon's competitors.
LG last month announced it has begun manufacturing a flexible plastic e-ink display with a 1024 by 768-pixel resolution. The durable yet thin screen, which doesn't need a sheet of glass for protection, is slated to arrive in Europe as early as this month.
Finally, the future may bring hybrid, switchable displays that offer the best of both worlds: color LCD for tablet-oriented tasks such as games and video; and monochrome e-ink for reading, predicts IDC analyst Bob O'Donnell.
Contact Jeff Bertolucci at Today@PCWorld, Twitter (@jbertolucci) or jbertolucci.blogspot.com.