At a Glance
Expert's Rating
Pros
Small, slim, and light
Easy-to-use multimedia remote
Our Verdict
This nettop doesn't have a lot going for it, but it is small and portable, and it comes with a multimedia remote.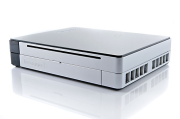 Lenovo goes ultrasmall with its latest nettop, the Lenovo IdeaCentre Q180. This compact PC's optional optical drive is detachable too, just in case you need its footprint to be even smaller. Unfortunately, tiny, space-saving PCs often come with less-impressive specs and performance, and the Q180 is no different, as this Intel Atom-based machine scored very low on our benchmark tests.
Our review unit, priced at $399 (as of April 9, 2012), packed an Intel Atom D2700 processor, 4GB of RAM, and AMD Radeon HD 6450A graphics. This Windows 7 Home Premium system also carried built-in Wi-Fi 802.11b/g/n and the aforementioned detachable DVD-RW drive, and came with a mouse, a keyboard, and a wireless multimedia remote.
In our new WorldBench 7 benchmark tests, the Q180 posted a score of only 38 (the baseline score is 100). This means that the Q180 is 62 percent slower than our baseline testing model, which admittedly has significantly better specs (an Intel Core i5-2500K processor, 8GB of RAM, and an Nvidia GeForce GTX 560 Ti graphics card). Since the Q180 is a nettop, however, such a very low score is to be expected.
The Q180 did not perform much better in our graphics tests; we weren't able to get anywhere near playable frame rates in Crysis 2 or Dirt 3. Video playback on the Q180 was fine, though we saw some dropped frames in action-heavy 1080p content. The DVD-RW drive is decent at playing regular DVDs. Lenovo offers a Blu-ray Disc drive upgrade on the Q180 for an extra $70, but no processor or graphics card upgrade.
Speaking of the optical drive, it is technically removable, but taking the drive off the PC is not easy. The drive, which is basically the same size as the PC, snaps on with the help of some very strong magnets. To take it off, you have to slide your fingernail along the seam and try to pry the two pieces apart. Doing so requires a surprising amount of force–it took some effort to convince the PCWorld Labs analysts that we hadn't inadvertently snapped the machine in half. The drive connects to the PC via an included USB dongle.
This tiny nettop measures 6.1 inches wide by 7.56 inches tall, and is 1.57 inches thick with the optical drive attached. When you take the optical drive off, the PC itself is only 0.87 inch thick. The machine weighs about 5.25 pounds and comes with a matte silver stand that flips over to accommodate either the full system (with the optical drive) or just the PC. The chassis is outfitted in shiny black and matte silver plastic, with a large black power button located in the upper corner.
What few ports the Q180 has are located on the back of the machine, consisting of your typical gigabit ethernet connection, four USB 2.0 ports (one of which you'll have to use with the optical drive), HDMI-out, VGA-out, and an S/PDIF audio port. The unit also sports a lock slot, which is unsurprising considering that this PC is so small and conveniently stealable.
The included keyboard is USB-wired and has Chiclet-style keys with slightly rounded bottoms and a soft feel. The keyboard is comfortable to type on, and it gives good feedback despite its soft-touch design. Also present on the keyboard are volume controls and a silver button for launching Lenovo's Vantage Technology utility suite, which includes one-touch system recovery. The USB-wired optical mouse has two buttons and a scrollwheel. It's light and comfortably sized, and it moves smoothly. It's generic, but it shouldn't bother anyone who isn't a gamer.
The bundled "multimedia remote" is interesting. It comes with a USB dongle, which means that if you have the keyboard, the mouse, the optical drive, and the multimedia remote all plugged in, you're out of USB ports. It's weirdly shaped, and looks sort of like a price-scanning gun–thick at the top and slimmer at the bottom. At the top of the remote is a small BlackBerry-like QWERTY keyboard, as well as multimedia buttons (volume, play/pause, stop, fast-forward, rewind, Internet, and a button that scrolls through open applications, similar to the way Alt-Tab does).
The remote tapers down under the keyboard so that you can grip it, and it has a large black "pointing stick" that's clickable, plus left and right mouse buttons, and a touch-sensitive scrolling area. Despite its weirdness, the remote is surprisingly easy to use (though it's obviously not for composing lengthy email messages), and it would be extremely convenient if you were using the Q180 as, say, a home theater device.
The Lenovo IdeaCentre Q180 is a mediocre performer, but its size, portability, and couch-friendly multimedia remote make it a good contender for media mavens on a budget. It isn't the most capable media-center PC, but if you're looking for a very inexpensive nettop to flesh out an entertainment center or stash in a nook, this is it.