As a fan of Ubuntu in particular and Linux in general, I'm always interested when new devices come out with my favorite operating system already installed.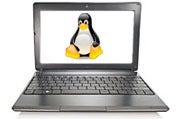 After all, buying a computer with Linux preloaded is a great option in many ways: Not only do you know everything will "just work," but you also get your "vote" for Linux officially counted as a concrete sales statistic, thus helping to paint a more accurate picture of the free operating system's true market share.
A few weeks ago I covered a new high-end Linux laptop from ZaReason that's available with a variety of Linux distributions preinstalled, but this past weekend two more moderately priced contenders from System76 made their official debut.
Ready for a quick look? Here are some of the highlights of what they include.
1. The $689 Lemur Ultra
First of the two new devices is System76's 14.1-inch Lemur Ultra ultraportable laptop, which is priced starting at $689. Weighing just 4.5 pounds, this PC can be configured with either an i5 or i7 processor–a 2nd generation Intel Core i5-2450M processor is the default option, or you can upgrade to a 2nd generation Intel Core i7-2670QM processor for an extra $115.
Featuring a 720p High Definition LED backlit display, the Lemur Ultra offers Intel HD Graphics 3000, a multitouch touchpad with two-finger scrolling, and built-in microphone and 1.3-megapixel webcam.
Also included is a 2.5-inch 9mm removable SATA II or III drive for storage, Intel Centrino 802.11 b/g/n wireless, and 4GB DDR3 SDRAM (expandable up to 16GB).
The OS, of course, is Ubuntu Linux–version 11.10 "Oneiric Ocelot" 64-bit, specifically–which comes with 5GB of free Ubuntu One online storage and sync capabilities.
2. The $699 Pangolin Performance
Then, too, there's System76's 15.6-inch Pangolin Performance laptop, a larger option that's priced starting at $699 and includes a spacious, chiclet-style keyboard.
Weighing 5.2 pounds, the Pangolin Performance also offers i5 and i7 processor options, a 720p High Definition LED backlit display, Intel HD Graphics 3000, and a multitouch touchpad with two-finger scrolling. Many of its other features are the same as in the Lemur Ultra as well.
Whereas the Lemur Ultra measures just 13.31 by 9.25 by 0.94 inches, however, the Pangolin Performance is 14.75 by 9.75 by 1 inch in size.
Interested in buying either of these? If so, consider donating an old computer at the same time. System76 has partnered with the nonprofit Kids on Computers to help bring computers and open source software to disadvantaged kids. If you're in the United States and you choose this option, $10 covers a portion of the shipping and System76 will cover the remainder.