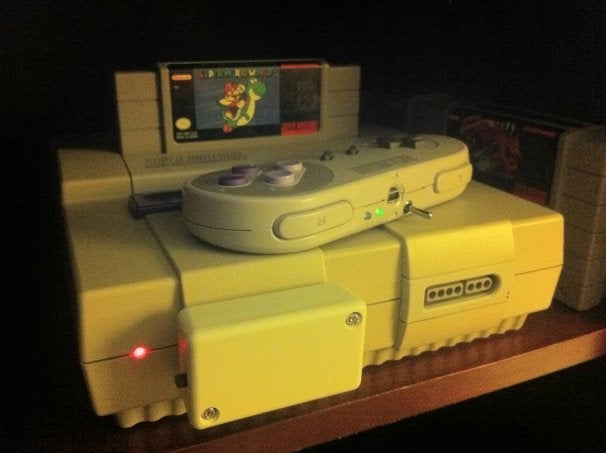 The greatest thing about modern consoles–even more so than graphics or online multiplayer support–has to be the wireless controllers. I can't tell you the number of times I've died thanks to diving eagles in the original Ninja Gaiden because of someone blocking my screen as they carefully stepped over the controller cord, which they would just trip over anyway.
If you had the same childhood gripes, you too probably wish you could have had this wireless SNES controller hack when you were younger.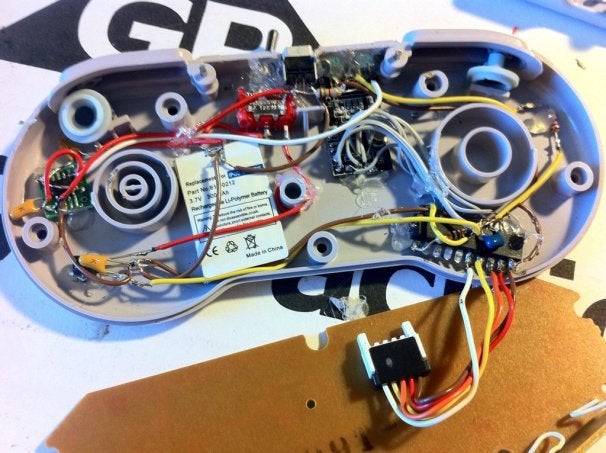 Imgur user ericmerl uploaded images of his modded SNES controller fitted with a RF transmitter, power switch and lights, battery, Mini USB port for charging, and a heap of soldered wirework. This seriously hardcore hack is actually credited to a design by YouTube user Kanal von Severatius that also works for NES, N64, and Sega Saturn controllers.
The hack is pretty ingenious since it uses the original controller and plug to connect with the console. When you press a button, its signal gets relayed through a microcontroller to the RF transmitter. The transmitter then sends signals to a control box connected to the console with a receiver and yet another microcontroller. Whew!
With that many steps, I'd imagine there is some amount of input lag, but who cares? You can finally play old games on their original console with a wireless version of the controller.
Do you miss controller cords? Leave a comment.
[ericmerl (Imgur) via GoNintendo and Gizmodo]
Like this? You might also enjoy…
Get more GeekTech: Twitter – Facebook – RSS | Tip us off