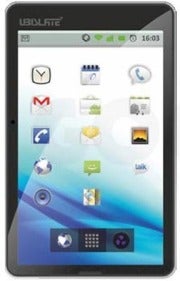 India's highly touted $35 tablet, set to ship in two to three weeks, is getting a makeover with improved hardware and Google's Android 4.0 OS, according to the company assembling the device for the Indian government.
The second-generation Aakash 2 will have a 7-inch capacitive multitouch screen and a faster single-core, 800MHz ARM Cortex-A8 processor, said Suneet Singh Tuli, CEO of Datawind. The new $35 tablet will ship with Android 2.3, but will be upgradeable to Android 4.0 about six to eight weeks after delivery, Tuli said.
"The product development is complete and deliveries are expected to start for Aakash 2 in about two or three weeks," Tuli said in an email.
The tablet's total price is around $45, and the Indian government will subsidize that to $35, Tuli said. The Indian government has budgeted for the acquisition of about 5 million units for the country's fiscal year, which started on April 1, and the tablet will be further upgraded as component prices come down, Tuli said.
The original $35 tablet was announced in July 2010 by the Indian government as a subsidized low-cost computing device for students in the country. Shipments started late last year but have been affected by disputes between Datawind and an Indian education institution responsible for providing specifications and testing the tablet.
The Aakash 2 is a significant upgrade over the original $35 tablet, Aakash, which means sky in Hindi. The original tablet had a 7-inch resistive touchscreen, Android 2.2 and a slower 366MHz processor based on an older ARM architecture. The Aakash 2 will have 256MB of RAM and 2GB flash storage, which are the same as the original $35 tablet.
The tablet will likely be upgraded to dual-core ARM Cortex-A9 processors by the end of the year, Tuli said. Many tablets today use Cortex-A9 processors, including models from Samsung, Asus, Acer and Lenovo.
"We're confident that by the fall, Cortex A9 dual-core processors will be in the same [price] range as what Cortex A8 is at today," Tuli said.
The development and deployment of the original Aakash tablet has been marred by controversies. The Indian government was expected to buy 8 million to 10 million units of the original Aakash tablet by March 31 this year, which was the end of the Indian fiscal year. But shipments have been much lower than expected mostly due to disagreements between Datawind and Indian Institute of Technology-Rajasthan, which was responsible for providing specifications and field testing for the device.
The differences between Datawind and IIT-Rajasthan related to testing criteria used to see if the tablet met certain requirements, Tuli said. The original Aakash device was tested on parameters such as shock, water resistance, temperature and dust and humidity, according to a document sent by Tuli describing test results.
IIT-Rajasthan has now been removed from the project, and the Aakash project has been transferred to the Indian Institute of Technology-Bombay, Tuli said. IIT-Bombay will also be the first buyer of Aakash 2 and purchase about 100,000 units. IIT-Bombay, in Mumbai, and IIT-Rajasthan, in Jodhpur, are among the top science and engineering educational institutions in India.
IIT-Rajasthan did not immediately respond to a request for comment.
Agam Shah covers PCs, tablets, servers, chips and semiconductors for IDG News Service. Follow Agam on Twitter at @agamsh. Agam's e-mail address is agam_shah@idg.com
Note: When you purchase something after clicking links in our articles, we may earn a small commission. Read our affiliate link policy for more details.