At a Glance
Expert's Rating
Pros
Excellent performance
Accessible, well-designed chassis
Our Verdict
The latest iteration of Maingear's Shift Super Stock spares no expense, but delivers on all counts: solid performance, accessible, singular design, and stunning good looks.
I try to steer clear of hyperbole. The fanciest gaming rigs are still mere machines, and I know enough about the underlying hardware to avoid being blown away by bars on a chart or tubes in a chassis.
But, wow. It's so blue (sorry, "Fusion Blue")! And that $300 paint job is just the tip of the iceberg. What the Shift Super Stock lacks in humility or frugality ($7967, as configured) it amply recoups in performance, versatility, and style.
The PCs that grace our Performance desktop PCs chart tend to focus on utterly demolishing demanding tasks (generally, games) as efficiently as possible. Most of the boutique vendors whose models grace our charts rely on off-the-shelf parts, which translates into a deemphasis of aesthetics. As a result, the chart is densely populated with drab black boxes. But a few vendors–Maingear among them–do things differently.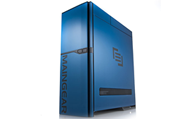 Maingear's Shift chassis is a recurring guest at or near the top of our charts. It's Maingear's own design, created in partnership with Silverstone. You'll be hard pressed to find anything like it on the market; the closest analog may be the Silverstone Raven RV01.
The big Shift chassis leaves plenty of room for large motherboards, triple SLI or Crossfire configurations, and liquid cooling–all standard fare for the category. But the Shift difference lies in design underlying its name: The machine's innards are tilted 90 degrees, so that the "rear" faces the top. It's simple really: heat rises. So the chassis packs large, slow-moving fans that pull cool air from the underside of the case, pushing warm air up and out the top. The components inside dissipate heat a bit more efficiently, slightly increasing their longevity and allowing you to dial the fans down a tad, to keep sound levels in check.
The model I reviewed included a window on the side and a white LED strip inside, so you can see the hardware in action. Getting into the chassis couldn't be easier: Just push a latch, and the case walls pop right off. Cable management is immaculate, too. The cables are routed through grommets into a chamber on the opposite side of the motherboard, leaving the main cavity of the PC readily accessible should you need to make changes inside. Though the hard drive bays offer tool-free access, you'll have to break out a screwdriver to get at the graphics boards.
Components include the requisite Intel Core i7-3960X processor, clocked at 4.8GHz and liquid cooled; 16GB of RAM, consisting of four 4GB sticks; three Radeon HD 7970 graphics boards are arrayed in triple-Crossfire;e four 120GB solid-state drives, arrayed in two RAID 0 pairs; a hefty 3TB platter drive to handle general storage; and a Blu-ray burner. There are no free PCI slots, as a hardware RAID controller is sandwiched alongside the graphics cards, but one hard drive bay remains open. Though the Shift's hard drive bays aren't hot-swappable, they are hosted in tool-free, readily accessible bays; pull on a latch, and they'll slide right out on their trays.
Performance is quite impressive, as you'd expect. On our WorldBench 7 benchmark test suite, the Shift Super Stock earned a score of 205. On our graphics tests, the Shift managed a frame rate of 95.4 frames per second on Crysis 2, at a resolution of 2560 by 1600 pixels, at high quality settings. At the maximum settings, it delivered 80.2 frames per second. Anything over 60 frames per second gives assurance of a smooth gaming experience, so the Shift Super Stock will be capably handling high-end PC games for years to come–as it should, given the price.
The Asus Rampage IV Extreme motherboard offers plenty of ports: six USB 2.0 ports, four USB 3.0 ports, surround analog audio outputs, an SPDIF optical output port, one eSATA port, gigabit ethernet, Bluetooth, a PS/2 serial keyboard and mouse port, and a clear CMOS button for getting out of sticky situations if your overclocking experiments go haywire. The Shift's design is especially handy here; since all the ports and connectors are up on the top, they're very easy to access (as long as you keep the machine on the floor–which I'd recommend, since it weighs 70 pounds).
A grille covers the ports, but its purpose has always been something of a mystery to me. When it's in place, you can route cables through a channel on the top, which gives the Shift a clean, clutter-free look. But then USB keys and the like won't fit. The grille is held in place with screws and is easy to remove, but I've never seen much sense in keeping it around.
Closer to the front of the box you'll find a break-out panel that pops up to reveal a pair of USB 2.0 ports, a FireWire port, microphone and headphone jacks, and a multiformat card reader. The upfront placement of these connections is useful, but they feel a bit dated–I would love to have seen USB 3.0 front and center. The panel didn't pop up all the way, either, so I had to nudge it a bit to get full clearance for USB keys and the like. Not a big deal.
The Shift Super Stock arrived with Windows 7 Professional installed, but it's bloatware-free. Two shortcuts on the desktop provide links to free Office and antivirus software, but you can delete those if you've rather stick to your own wares.
I have to take a second to call out the Shift's binder-based information packet. Housed in a simple plastic case, it packs quite a bit of stuff: a complimentary Maingear t-shirt, the installation DVD for Windows, software for the Blu-ray burner, and codes for some games. Then there's the documentation proper–a generic guide highlighting the features of all of Maingear's product lines, plus the Maingear manifesto. The highlight is the 55-point "Pit Crew Log" that guides you through every stage of the qualification process, including benchmark results, the bios and driver versions installed on the machine when it shipped, and the signature of the Maingear employee who built your PC.
Plenty of PCs work their way through PCWorld Labs, and it's tricky for one to stand out–especially among Performance desktops, which use very similar components, are overclocked to comparable levels, and earn comparable scores. But the Shift Super Stock ticks all of the requisite boxes for power, intimidating size, and daunting price tag, but then it goes beyond, with a singular chassis that couples accessibility and intelligent thermal management. And further still, with concise documentation that provides a timeline of the Shift's birth and brings up some measure of accountability if something goes wrong. I'm not exactly a fan of blue (I'd prefer dark green, or maybe subtle gray), but the automotive finish is stunningly well done; you also have the option of choosing a custom color in the configurator.
I can't honestly recommend that anyone go out and spend $8000 on a PC. If you know that you need this much performance to tackle your tasks, however, and you have gobs of cash to throw at your hardware, you'll be happy to know that the Shift Super Stock's build quality is superb, and that Maingear offers plenty of customization options.
Since I'm a bit of a miser, when I tackle these expensive performance behemoths I usually look into what it would take to build the machine myself. If I can save a few hundred bucks (or more) by investing a day or two of tinkering–which I enjoy–why should I involve a middleman?
The Shift Super Stock is as compelling a response as I need.