Springpad has gone social. On Wednesday, the note-taking Web service Springpad, announced a major update to its platform, one that it hopes will drastically change you use the service.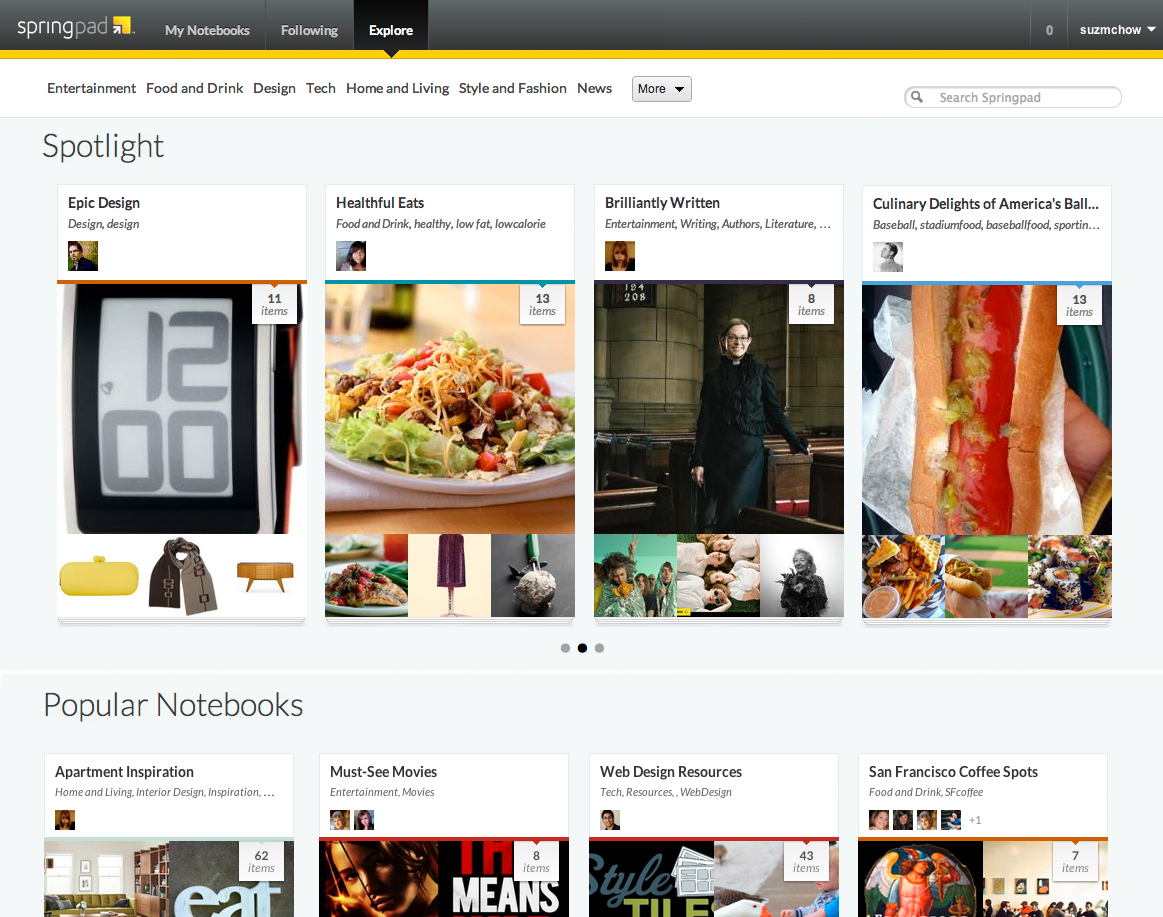 In the past, Springpad was largely a solo affair: You could create notebooks and save notes and Web clippings to them, but there was no easy way of sharing those notebooks with other people. In the new version of Springpad, you can easily share notebooks with others, allowing your friends to add or edit notes to existing notebooks. While great for group projects, this feature works well for other collaborative efforts as well. For instance, you could create a notebook titled "Must See Movies," and share that notebook with your friends in order to get their movie recommendations.
Along with collaborative notebooks, the Springpad site overall has received a major facelift. With this update, notebooks and notes are much more visual and now bear a resemblance to boards on Pinterest. You can search and follow public notebooks, and comment on individual notes. A new Explore section of the site will highlight interesting notebooks that you can follow, with notebooks broken down based on the types of notes they contain.
Whereas creating notes in the old version of Springpad was a somewhat slow affair, that problem has effectively been eradicated thanks to a new quick add feature. Using a small search bar on the right side of the screen, you can automatically add notes to your selected notebooks. Notes will auto-populate with relevant information; so a movie-based note may have local theater times as well as reviews from Flixster and Rotten Tomatoes.
Along with the refresh to the Website, the company also released updates to both the iOS and Android Springpad apps, with offline support being the most notable addition.
I got an early hands on with a beta of the site and quickly fell in love will all of the new features. The ability to add notes and have them auto-populate with relevant information makes Springpad a much more functional version of Pinterest. So if you hadn't used Springpad in the past, now seems like a good time to start. Joining is free, and the site is constantly looking to add new features based on user feedback.