At a Glance
Expert's Rating
Pros
Small and slim, with a compact footprint
Pretty cheap
Cons
Screen is unattractive
Awful performance
Our Verdict
This all-in-one desktop may not pack much power, but it is budget-friendly, space-friendly, and environment-friendly.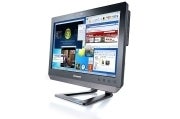 It's always nice when PC makers cram above-average components into budget-friendly, space-saving, energy-efficient machines. This is not one of those machines, however. The Lenovo C325 all-in-one PC costs just $499 (as of April 10, 2012), but this is definitely a case of "you get what you pay for."
Our review model came with an AMD E-450 processor, which explains the system's performance scores–though the dual-core E-450 packs decent integrated HD graphics, this processor is designed for small laptops and netbooks. The C325 also has 4GB of RAM, 500GB of hard-drive space, and built-in 802.11b/g/n Wi-Fi, and it runs the 64-bit version of Windows 7 Home Premium.
Performance
The C325's performance is fairly weak. On PCWorld's WorldBench 7 benchmark tests, this all-in-one posted a measly score of 45, which means that it's about 55 percent slower than our testing model. Of course, our testing model has a desktop-class processor (an Intel Core i5-2500K), but that's no excuse–45 is one of the lowest WorldBench 7 scores we've seen.
Graphics performance on the C325 is nearly nonexistent, too. The integrated AMD Radeon HD 6320 graphics hardware is okay for casual multimedia consumption, but not much else. In PCWorld's Dirt 3 graphics tests, the C325 managed an unplayable frame rate of 16.2 frames per second (medium quality, 1024 by 768 pixels). In other words, the C325 is a gaming machine only if you're a Minesweeper aficionado.
Design
Housed in an all-metal chassis, the C325 sports a matte 20-inch screen with a slim, shiny black bezel. A 0.3-megapixel webcam is located at the top center, and Lenovo's logo sits at the bottom center. The power button occupies the right side, while screen/volume adjustment buttons and a screen-off button reside on the left. Slightly curved silver speakers jut out from underneath the bottom portion of the bezel, and the entire system sits on a sturdy, tiltable stand.
On the left side of the system, directly behind the screen, are a few convenience ports: a multiformat card reader, two USB 2.0 ports, and microphone and headphone jacks. The right side of the AIO houses the tray-loading DVD-RW drive. The rest of the ports–four USB 2.0 ports, one gigabit ethernet connection, and a lock slot–are on the back of the machine, easily accessible in the lower-left corner. Nothing too fancy, but since this is a budget AIO with a netbook processor, it'll do.
Screen, Speakers, and Peripherals
The C325's 20-inch screen has a native resolution of 1600 by 900 pixels, and is unremarkable in every way. It's bright enough, but the matte texture leaves images and text looking soft and slightly out of focus. Individual pixels are clearly visible, and video playback struggles. Blacks are sort of gray, colors look washed out, and high-def streaming video with dark scenes looks sort of 16-bit, with visible color gradation. Our review model didn't come with a touchscreen, but you can get a touchscreen on the C325 for around $50 more.
The speakers on the C325 are like laptop speakers–pretty bad, but useful if you just want to, well, listen to something. The two 3-watt speakers are located directly below the screen and face forward. They're acceptably loud, though you will hear some fuzziness at higher volume levels. Sound is generally muffled, and lacks bass and fullness. Lenovo does include SRS Premium Sound enhancement, which offers a mediocre surround-sound simulation.
As for peripherals, the C325 comes with a very basic keyboard and mouse, both of which are USB-wired. The keyboard features flat, Chiclet-style keys that have a slightly rounded bottom and a soft-touch feel. The keys are comfortable to type on, and offer surprisingly good feedback despite their soft-touch nature. Also included on the keyboard are volume controls and a silver button that opens Lenovo's Vantage Technology software with one touch. The optical mouse, equipped with two buttons and a scrollwheel, is slightly jumpy and oversensitive. It's also very narrow–a little too skinny, even for my small hands.
Bottom Line
Lenovo's C325 is simply unimpressive all around. It's boring to look at, it's a poor performer, and multimedia looks and sounds average at best (and awful at worst).
But all is not lost–the C325 has a small footprint, both physically and environmentally, thanks to its decently sleek design and energy-efficient netbook-class processor. Plus, it's fairly cheap. So if you're looking for a budget-friendly, space-friendly, and environment-friendly computer–and you don't really care about performance–this might be the all-in-one for you. I think it would make a good secondary PC (especially if you snag the touchscreen option) for a kitchen or for a child's room.