At a Glance
Expert's Rating
Pros
Bright and beautiful screen
Very powerful
Cons
Inconvenient port placement
No touchscreen option
Our Verdict
The expensive Z1 all-in-one has both brains and beauty, but it also has some issues that are impossible to ignore.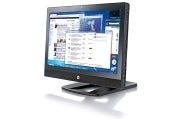 The new HP Z1 Workstation is the most attractive, most powerful, and most expensive all-in-one PC I've ever seen. And that isn't an exaggeration: This all-in-one workstation, the first of its kind, has a gorgeous 27-inch edge-to-edge glass screen, packs desktop-class components, and will set you back a cool $5673 (as configured, and as of April 10, 2012).
Our review model sports an Intel Xeon E31280 processor, 16GB of RAM, and an Nvidia Quadro 4000M graphics card, and runs a 64-bit version of Windows 7 Professional. The graphics card alone currently goes for around $750 online, so that's a big chunk of the Z1's hefty price tag. The model we tested also features built-in Bluetooth 3.0, built-in Wi-Fi, a high-def (1080p) 2-megapixel adjustable webcam, and a Blu-ray Disc writer. Budget-minded shoppers can pick up the Z1 with lower-end specs (such as a 32-bit OS, a DVD-RW drive, or an Intel Core i3-2120 processor) for less, as the Z1's base configuration starts at $1899.
Performance
I'll just go ahead and say it: This machine is, hands down, the most powerful all-in-one PC we've ever tested. In PCWorld's WorldBench 7 benchmark tests, the Z1 posted an impressive score of 159. That means the Z1 is 59 percent faster than our baseline model, a desktop with an Intel Core i5-2500K processor, 8GB of RAM, and an Nvidia GeForce GTX 560 Ti graphics card. The score puts the Z1 well ahead of the rest of its class (most large-screen AIOs score in the 80-to-100 range on WorldBench 7), and even ahead of some of our lower-end performance tower desktops.
The Z1 also offers impressive graphics performance, thanks to its Quadro 4000M professional workstation graphics card, which supports high-quality 3D. In PCWorld's Dirt 3 graphics tests, the Z1 delivered very good frame rates of 69.1 frames per second (high quality, 1680-by-1050-pixel resolution) and 112.9 fps (high quality, 1024-by-768-pixel resolution).
Design
The Z1 is housed in a gorgeous, if large, all-in-one chassis. The machine sports a glossy 27-inch screen with edge-to-edge glass across the slim black bezel. It sits on a sturdy plastic stand that flexes and folds to allow you to lay the screen flat and snap open the chassis. The stand is rather deep–16.5 inches, to be exact–which is necessary to support the Z1 when it's vertical and when it's horizontal. The depth is unfortunate, however, since it means that this otherwise slim PC takes up a lot of desk space.
Ports are mostly located on the back of the Z1, inconveniently underneath the point where the stand connects to the machine. Making things even more inconvenient, these ports angle upward, so plugging anything in is extremely frustrating. On the back of the Z1, you'll find four USB 2.0 ports, one gigabit ethernet connection, DisplayPort in/out, S/PDIF, a subwoofer connection, line-in, and line-out, as well as a lock slot. A few convenience ports–two USB 3.0 ports, one FireWire port, a four-in-one card reader, and microphone and headphone jacks–are located on the side of the system.
Unlike most all-in-ones, the Z1 is made to be opened and tinkered with. However, while it is housed in a toolless chassis, opening the Z1 is tricky. First you have to lay the screen flat, which involves a lot of pushing and hoping that nothing breaks (putting the screen upright again is much more difficult, too). Then the screen snaps open from the bottom, and you're treated to the neat-but-cramped interior of an AIO. Inside you'll find four PCIe slots (one PCIe x16 slot that's full, plus three open MiniPCIe slots), four memory slots (32GB maximum), and three USB 2.0 ports.
Screen, Speakers, and Peripherals
The Z1's crowning glory is its 27-inch LCD In-Plane Switching screen, which has a native resolution of 2560 by 1440 pixels. The screen is very bright, with striking contrast and crisp images and text. Thanks to the IPS technology, colors look accurate, and viewing angles are very good. The screen is not a touchscreen, which is disappointing, since most higher-end AIOs have touchscreens these days.
Multimedia looks and sounds great on the Z1. Video playback is smooth, with very little artifacting (and much of the artifacting we saw was due to the video source, not the Z1's playback). Audio sounds very good, with full, rich bass and decent surround-sound simulation. The speakers are quite loud, so this AIO could easily double as a TV substitute. (Not that you'd be watching much media, when you should be working.)
The Z1 comes with a wireless keyboard and mouse, both of which are mediocre at best. The keyboard, which has regular-style keys, is easy to type on but offers weak feedback. The optical mouse is typical, with two buttons and a scrollwheel, and is slightly jumpy and oversensitive.
Bottom Line
The HP Z1 Workstation is gorgeous and powerful, but it's definitely not perfect. My biggest issue with the system is that it lacks a touchscreen, a feature that most of its competitors have. The Z1 also has difficult-to-access ports, an inconveniently deep stand, and mediocre peripherals. These problems aren't usually deal breakers, but for $5673 I pretty much expect perfection.
Still, the Z1 is exceedingly powerful for an AIO, and it's also extremely attractive. So if you like traditional input devices (and you have your own), and if you have a lot of desk space to spare, you may want to check out this beauty. Plus, the ability to open the PC up and swap out parts–even if it's fairly cramped in there–is something you won't find in any other all-in-one.