At a Glance
Expert's Rating
Pros
Inexpensive ink
Excellent photo quality
Cons
Printer monitor software can conflict with driver
Slow performance
Our Verdict
For a bargain price, this multifunction printer offers great photo quality and low-cost ink–with just a glitch or two.
The Kodak Hero 3.1 color inkjet multifunction printer offers a lot of bang for the buck. At only $100 (as of April 2, 2012) this copying/printing/scanning device produces exceptionally nice photos, and its inexpensive inks make it cheaper to operate than other MFPs in its price range. Kodak also provides some elegant software, though it suffered from a glitch in our testing.
We miss the Kodak-gold highlighting of older models, but the Hero 3.1 is a competent-looking unit that appears to be reasonably well built. Its paper-handling features are strictly low-volume: a 100-sheet rear vertical feed, manual-only duplexing, and no automatic document feeder. Disappointingly, for a unit that lacks an ADF, the scanner lid (for letter/A4-size paper) doesn't telescope to accommodate thicker documents.
The Hero 3.1's controls, on the other hand, seem more upscale because of the 2.4-inch color LCD display, which you navigate by means of a four-way rocker and a select button. A single Start button initiates all operations; you choose between black and color printing by selecting from the appropriate menus prior to the operation, which adds steps. But that's a minor fault in an otherwise easy-to-operate machine.
The software glitch we encountered occurred in Microsoft Word 2007: The print properties dialog box took some 20 seconds or so to open. Kodak confirmed our suspicion of poor interaction between Word and the printer monitoring software. After we closed the monitor, the print properties dialog box popped open almost immediately.
Back to the good news: The Hero 3.1 surpasses the least-expensive tier of MFPs on the market with its excellent photo quality and very good (though slightly soft-edged) text quality. Color graphics on plain paper are quite nice, too, offering a more accurate palette than most other units in its price range.
Though the Hero 3.1's output is very nice, it arrives slowly. Text pages printed at a slothful 3.3 pages per minute in both our PC test and our Mac test. Draft mode is at least twice as fast, but output from that mode can suffer the soft-edge defect. Graphics print speeds were more in line with those of competing machines: 4-by-6-inch photos printed at 2.3 ppm on plain paper and at 1.3 ppm on glossy photo paper–slower than average, but not by much. A full-page photo printed on glossy paper took about 4 minutes. Scans and copies were slower than average, too, but the waiting time shouldn't torment you in small doses. We noticed minor alignment issues on some documents printed in draft mode.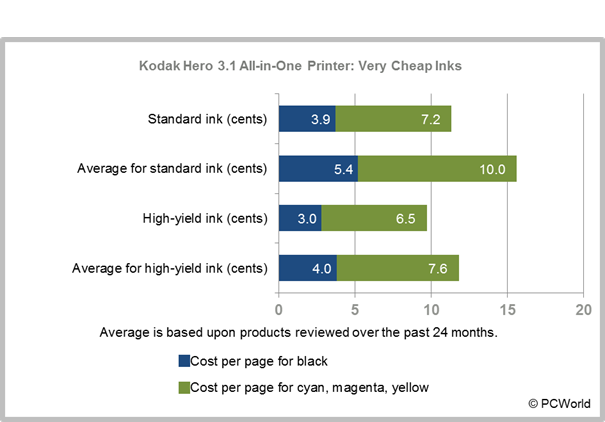 No other vendor prices the inks for its cheaper MFPs as low as Kodak does. Black pages from the 335-page low-capacity black cartridge (priced at $13) cost 3.9 cents per page; the 670-page XL cartridge ($20) reduces that figure to just 3 cents per page. Color costs are equally appealing. The regular $20 cartridge lasts for 275 pages or 7.3 cents per page (2.43 cents per page per color) and that drops to 6.5 cents per page with the 550-page XL cartridge ($36). Bear in mind that this is a unified, tricolor cartridge; if you don't use the colors evenly, color cost per page can be higher. Still a four-color page for as little as 9.5 cents per page is a major attraction.
Aside from the software glitch, the Hero 3.1 appears to be quite a bargain for a color inkjet MFP. But it still pays to compare it to similar rivals such as the Epson Stylus NX430 and the HP Photosmart 5510.