The Samsung Galaxy Tab 2 got its official U.S. launch today, with pricing and general availability revealed for the first time since the Galaxy Tab 2 series was quietly shown at Mobile World Congress in Barcelona two months ago.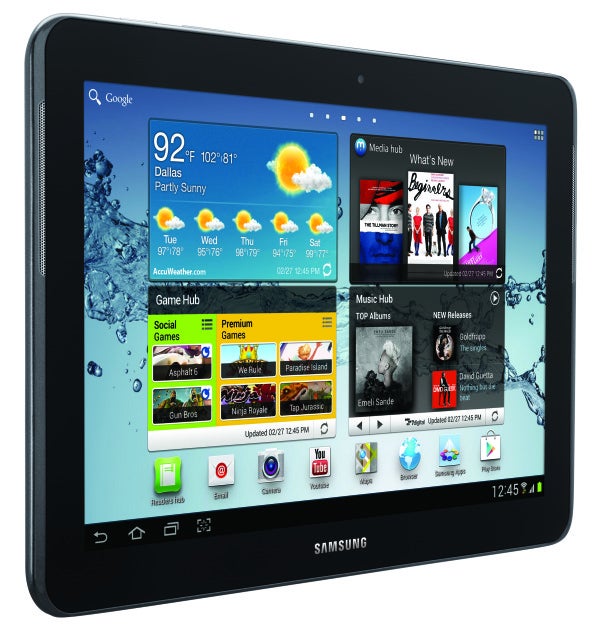 Back at MWC, the Tab 2 played second fiddle to the company's attention-grabbing Galaxy Note 10.1, itself a larger version of the Galaxy Note phone.
Today, though, the Galaxy Tab 2 series has the spotlight to itself. A light refresh of earlier tablets, the Tab 2 Series comes in 7.0 and 10.1-inch versions and features similar specs, with a few differences.
The biggest news surrounding these tablets is their markedly lower price. The Galaxy Tab 2 7.0 is priced at $250, goes on pre-order April 12, and on-sale 10 days later. The Galaxy Tab 2 10.1 is priced at $400, will go on pre-order May 4, and ships May 13.
Those prices are especially noteworthy given the red-hot tablet market. At $250, the Galaxy Tab 2 7.0 sets its sights squarely on its bargain-priced $200 Amazon Kindle Fire and Barnes & Noble Nook Tablet competition. All three of those models have 7-inch 1024 by 600 pixel displays, and all three come with just 8GB of memory on-board. But of those, only the Galaxy Tab 2 has an infrared port for controlling your TV and entertainment components, and only the Tab 2 has Android 4.0 Ice Cream Sandwich (both Amazon and Barnes & Noble are using their own versions of Android, built on-top of 2.3 Gingerbread).
Meanwhile, the Galaxy Tab 2 10.1 price reflects a 20 percent drop as compared with last spring's original Galaxy Tab 10.1. Both old and new 10.1-inch models had 16GB of memory and 1280 by 800 pixel resolution, but this year's version adds the microSD card slot and IR port, so you can use the tablet as a remote control.
Both of the new Galaxy Tabs have a 1GHz dual-core processor, though Samsung did not divulge if they were the same Nvidia Tegra 2 processors as in previous dual-core Tab 10.1 Wi-Fi, for example (presumably, it's not since they're not saying). The new models will replace the existing like-sized Tabs in the market, the 10.1 Wi-Fi and the Galaxy Tab 7.0 Plus. Oddly, when comparing the Tab 2 7.0 to the Tab 7.0 Plus, the latter—a late-2011 model–was actually more tricked out than the Tab 2, with a 1.2-GHz processor and 16GB of memory. The rear-facing camera's spec (on both models) of 3 megapixels stays the same as on the original Tab 10.1 Wi-Fi; but oddly, the front-facing camera drops from 2 megapixels on the 10.1 to a sub-megapixel 640 by 480 on the new models.
The physical specs of the Tab 2 models are virtually the same as on their respective predecessors. Likewise, physical build is comparable, too, to previous models (not to mention that it's notably better than the chintzy impression the Tab 2 series left in its pre-production state at Mobile World Congress two months ago). The Galaxy Tab 2 7.0 weighs the same as the Galaxy Tab 7.0 Plus: 0.76 pounds, with a similar design and build quality, and similar dimensions (4.8 by 7.6 inches, but slightly thicker at 0.41 inches, to the 7.0 Plus' 0.39 inches). The Tab 2 10.1 also has similar dimensions to its predecessor, 6.9 inches by 10.1 inches, but slightly narrower (0.34 inches to 0.38 on the original Tab 10.1 Wi-Fi). Oddly, the new 10.1-inch model's weight is ever-so-slightly more, 1.28 pounds to 1.25 pounds.
In its launch, Samsung emphasized aspects of its software additions to the Tab 2 series. Among them: a year of included Dropbox service with 50GB of storage; the IR remote control capability, powered here by Peel's app; and features like Smart View for mirroring content from your TV on the tablet, and Remote Viewfinder for use with Samsung's Wi-Fi cameras. This feature could have some interesting applications for group photos, for example; using WiFi Direct and an app on the tablet, you can use the tablet to control the viewfinder, shutter, zoom, and flash of the camera.
The Smart View TV-to-tablet mirroring feature will work with only Samsung 7000 series LED HDTVs, circa 2011 and beyond. It was fairly nifty in a demo, requiring just a few taps to share a television's feed with the tablet; I noticed a fair amount of macroblocking and artifacts in the image on the tablet, but it's unclear if that's because of the tablet itself or the available Wi-Fi bandwidth. The image was certainly watchable in a pinch; and it sufficed compared with some other middling streamed images I've seen over time. Also, I noticed that, as compared to the same 720p image broadcast on a Samsung HDTV, the image on the tablet frankly called attention to the color reproduction deficiencies of the tablet's screen.
Is all of this enough for Samsung to stay competitive in a crowded tablet marketplace? Maybe, but it's still a tight call. These tablets are obviously being positioned as the company's "value" hitters—no 4G, no pen input as on the upcoming Galaxy Note, no high-resolution display—and that makes the inclusion of an infrared port an even larger coup.
Still, these models must compete with the Apple juggernaut along with the Android masses. And that might be a tough proposition without better, higher resolution displays, thinner designs, and better cameras. I also wish that Samsung had included its own universal remote control app with the tablet, rather than relying solely on a third-party app to do the heavy lifting instead.