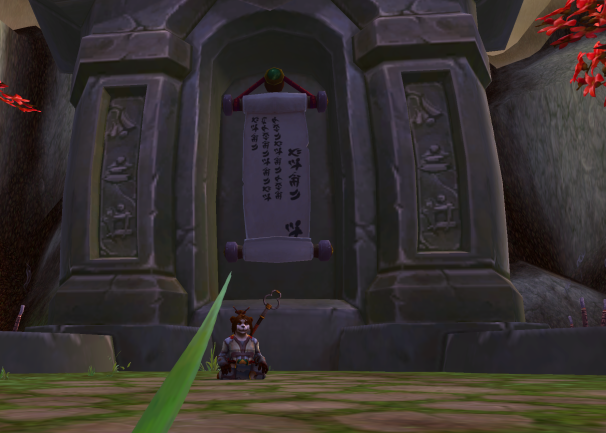 It's a Wednesday evening in the World of Warcraft: Mists of Pandaria beta and almost everything is broken. Needed items for quests just won't spawn. I'm given abilities that only function when used with other abilities that I won't get for another twenty levels. I sometimes have to just kill enemies for hours at a time to continue leveling up.
It's the most fun I've had playing World of Warcraft in years.
A word of warning before I continue with this story: this is a beta, which means the bugs I'm coming across in the game are no indication of the final state of the game. If earlier WoW betas are any indication then even relatively minor bugs will be stamped out before Blizzard ships the final version.
The Pandaria beta already has a host of new content available for eager WoW players. A new continent to explore with five more levels for your character to gain, a new race that players of either faction can select and a new character class, monks, that promises to add new play mechanics to the World of Warcraft. While plenty of players are logging in to get an early look at all the new content, I find myself just as interested in what isn't there as what is.
Don't get me wrong, the new zones and models are stunning and the animations and abilities of the Monk already have me working out how quickly I can level one when the game goes live. It's just that with the relatively small amount of content available for testing at the moment you quickly find yourself running into strange holes in the world (some more literal than others). There's a strange and indescribable kind of magic in playing a game that isn't finished yet.
Betas are nothing new in the world of games, but what makes the Mists of Pandaria beta unique is the scale on which Blizzard is giving players access to the beta. Automatic beta access was included in Blizzard's annual pass feature. Sign up for a guaranteed year of paying your monthly subscription to WoW and you'd get a host of goodies, including access to the Mists of Pandaria beta.
The offer was so good over a million players took them up on it.
So far Blizzard has invited 750,000 of the annual pass holders into the beta, and that means more people are playing the beta for the next WoW expansion than have ever played many of the smaller MMOs on the market at all.
This means an unprecedented number of players are taking a look at a world that isn't quite functional. While this lack of functionality can be frustrating (I'd wager the vast majority of beta players log in once and then leave after a few minutes when confronted by buggy quests and starting zones swamped with other beta players) it also results in some unintentionally hilarious and amazing gameplay.
For example, in an early build of the beta Varian Wrynn, King of Stormwind and commander of the Alliance, welcomed female characters with the somewhat out of character greeting "HAAAAY GURL." The temporary dialogue was part of a quick quest chain welcoming your new character to the Alliance; other early, unfinished quests featured Varian asking you to walk with him before rocketing off at lightning speed. The questline finished with the text "[TEMP] You're Cool, Welcome to the Alliance."
A friend of mine joked that in that quest text you could see the exact moment when 5pm on a Friday rolled around at the Blizzard offices. Strangely, I think that lack of polish and care is why I find the beta so addictive. In many ways WoW is an elaborate magic trick performed by Blizzard, who manage to keep all the work required to keep the game stable and (relatively) balanced for 10 million players safely tucked behind the curtain. The Mists of Pandaria beta offers a brief glimpse behind that curtain to see how the magic trick works.
While long term it isn't a substitute for the finished game that will (probably) be released soon (judging by the state of the beta I'd guess a late July/ early August launch, but Blizzard is keeping to their typical "when it's ready" release date so far) the peek at the man behind the curtain makes playing a half-finished game almost as exciting as the real thing.