If you want to get a taste of Windows 8 for tablets, a new $25 app for the iPad can simulate the Metro UI on Apple's tablet. Called Win8 Metro Testbed, the app is made by Splashtop, a company known for its remote desktop apps for iOS and Android.
Before you download the app, you will need Windows 8 Consumer Preview running on a PC (download it here, and you'll probably want to use dual boot) and install a small streamer file. Once you got that up and running, install Win8 Metro Testbed on your iPad, and the app will basically stream Windows 8 to your tablet via Wi-Fi at up to 60 frames per second — which is very smooth.
The app uses the native touch gestures of Windows 8 tablets, such as swiping from the left to switch apps, swiping to the right to reveal the Charms (options) menu or pull from the top to close an app. Swiping left/right in Internet Explore will move between pages, and when you swipe slowly from the left, the "snapping" feature is enabled, which allows you to run two app side by side.
Here's a quick video demo of the solution:
Given that Windows 8 tablets are not yet available, there are, of course, a few shortcomings to Win8 Metro Testbed on the iPad, such as the lack of camera support. But the main drawback would be that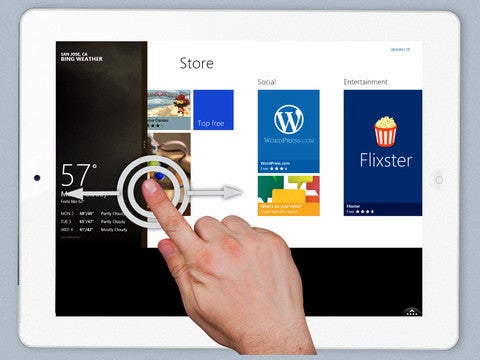 upon connection, the desktop display adjusts itself to the native resolution of the iPad 2, 1024 by 768 pixels. While this is the minimum for Metro apps, the resolution doesn't support snapping apps side by side, unless you use the 1366 by 768 resolution, which creates black bars across the top and bottom of the screen.
If you're looking forward to Windows 8 and have an iPad, $25 ($50 after initial promotion ends) is a reasonably priced way to get a taste of Metro apps early. But Splashtop's Win8 Metro Testbed will probably me more effective to developers who are working on Windows 8 apps and want to test them on a tablet, since they can't buy an actual Windows 8 one yet.
Follow Daniel Ionescu and Today @ PCWorld on Twitter