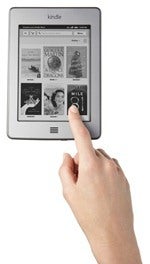 Amazon plans over the next few weeks to roll out a software upgrade for its Kindle Touch e-reader that includes several useful enhancements via Wi-Fi. But why wait?
[Complete list of Kindle Touch's new software features]
The improvements include the ability to switch between portrait and landscape mode in books and PDFs, instant translations of words and passages into other languages, and a text-to-speech feature that reads English-language content aloud.
Impatient Kindle Touch users can install the upgrade today. Here's how:
First, make sure you're not already running the new software. Go to the Kindle Touch home screen; tap Menu, then Settings, and Menu again. Select "Device Info." If the firmware version is Kindle 5.1.0 (as shown below), you're running the latest version and don't need to upgrade.
On your desktop or laptop PC, go to Amazon's Kindle Touch upgrade page, scroll down a bit, and click "Download Software Update 5.1.0." The file size is only 38.6MB, so the download shouldn't take long.
Power up the Kindle Touch and connect it via USB cable to your PC. Drag the update file from your PC onto the Kindle drive (see below). (Make sure you don't drop the file into one of the folders within the Kindle drive, Amazon warns.)
Check the Kindle drive to make sure the upgrade file transferred successfully.
Eject the Kindle Touch and disconnect it from your PC.
To launch the software update on the Touch, tap Menu on the Home screen, then Settings. Tap Menu again and select "Upgrade Your Kindle." Tap OK when asked if you want to run the upgrade.
The upgrade will take a few minutes, and the Touch will restart twice during the process.
Perhaps the best new feature is the Touch's ability to switch between portrait and landscape modes–handy for reading graphs, maps, and tables. Switching is a big clunky, however: To switch while reading a book in portrait, for instance, you tap Menu, and then Landscape Mode.
Well, at least you won't have to worry about willy-nilly mode switches whenever you happen to sit up, turn to the side, or move your arms while reading as with a certain tablet that we shall not name.
Contact Jeff Bertolucci at Today@PCWorld, Twitter (@jbertolucci) or jbertolucci.blogspot.com.
[Updated 4/17/2012 with correct image of Kindle Touch]