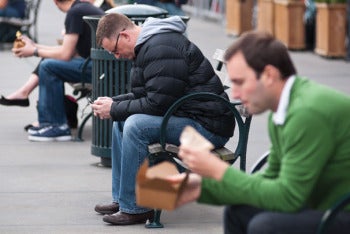 It's been a year since we looked closely at wireless service in the United States, and in the interim that service has changed considerably–mostly in positive ways. The industry is in the midst of another major technology transition, this time moving from a 3G world to a 4G one while trying to grasp the implications, realize the opportunities, and deal with the growing pains. All of this should be good (even fun!) for consumers, and it could lead to a lot of cool, superfast, reasonably priced devices.
In this year's study, we took snapshot measurements of wireless service in 13 cities–Atlanta, Boston, Chicago, Dallas, Denver, Las Vegas, Los Angeles, New Orleans, New York, San Francisco, San Jose, Seattle, and Washington, D.C.–across the country to get a real-time view of how the 3G-to-4G transition is progressing, and of which companies are currently delivering on the promised faster speeds.
SLIDESHOW: 3G and 4G Average Speeds, City by City
For details about how we conducted our testing, see "Methodology in a Nutshell."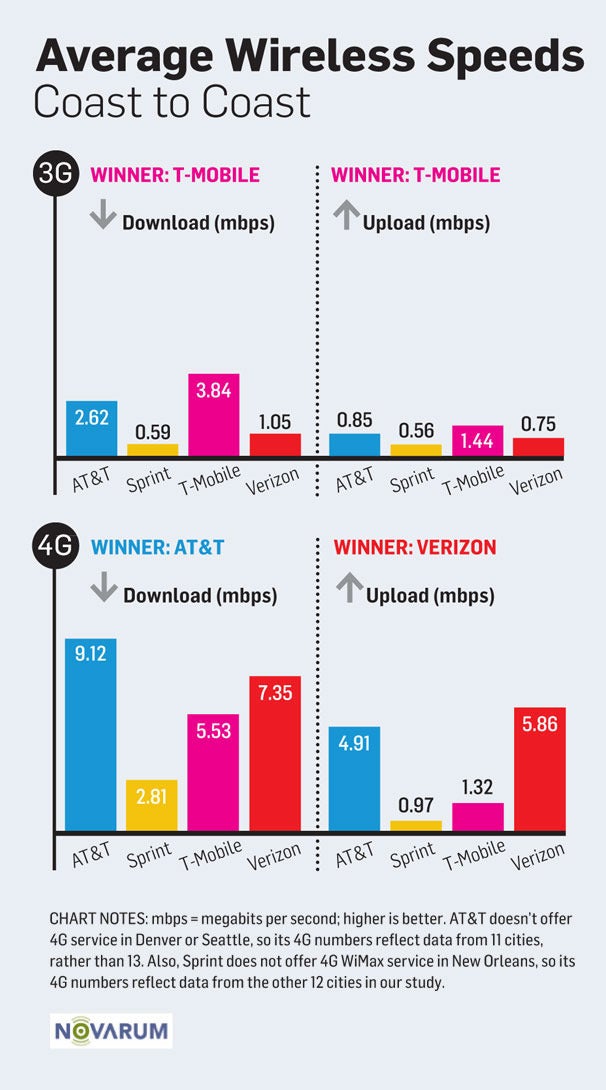 In general, the major wireless carriers appear to be keeping pace with the explosion in demand for mobile data service. The 3G service that most of us use today is at least as fast as it was a year ago, even though far more subscribers are tapping the networks with increasingly data-hungry devices. And a new generation of much faster 4G wireless service is quickly becoming commonplace in the country's more populous areas.
"Our research shows that the demand on mobile broadband networks is nearly doubling every year, so there is definitely no room to remain idle" said Dan Hays, U.S. advisory wireless leader for PricewaterhouseCoopers (PwC). "The results of this year's PCWorld study clearly show that most wireless network operators are continuing to invest significantly in their 3G networks, adding capacity to ensure that speeds remain competitive."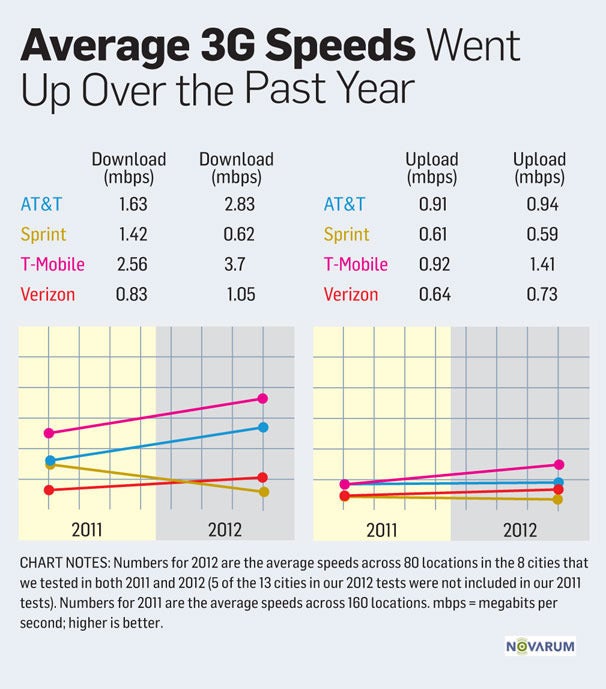 Here are the major findings of our study:
• AT&T's new LTE network turned in the fastest download speeds of any 4G service. Its 3G service was very competitive, too–and those two results help make a strong case for AT&T dual-mode 3G/4G phones.
• T-Mobile's HSPA+ 21 service won in the 3G bracket of our study, and the company's high-end HSPA+ 42 service competed reasonably well with other providers' 4G service. In addition, T-Mobile's service plans are more flexible and its prices are lower than those offered by competing carriers.
• Verizon makes 4G service available in many more locations than other providers do, and its 4G upload speeds are top-of-the-line, but its 4G download speeds don't match AT&T's. And Verizon's 3G speeds are not improving much, especially when compared to the competition.
• Sprint was consistently a laggard in our wireless speed derby. The company seems to have virtually stopped developing its existing 3G and 4G networks while looking for a way to make the transition from its outdated WiMax 4G technology to LTE.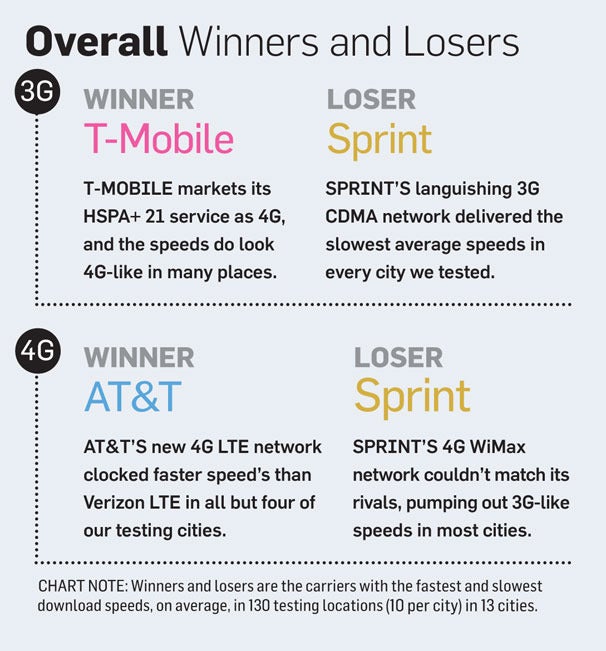 Next page: How AT&T performed.
AT&T Regains the Lead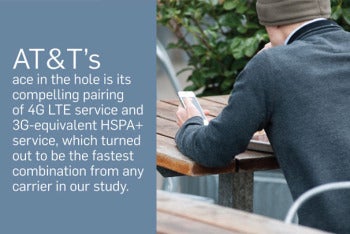 In the eight cities where we performed testing in both 2011 and 2012, AT&T increased the average download speed of its HSPA+ service (which it now markets as 4G) substantially, from 1.63 mbps in 2011 to 2.62 mbps in 2012. (We tested in fewer locations per city this year, and half of those locations were indoors.)
AT&T is quickly rolling out a 4G LTE network to compete with Verizon's LTE service, too. So far, the speeds that we've recorded for AT&T's LTE network are impressive: In the 11 cities in our test group where the service is available, the network delivered an average download speed of 9.12 mbps. That's about 25 percent faster, on average, than Verizon LTE's download average of 7.09 mbps in those same ten cities. Verizon LTE was faster than AT&T LTE in only two of the 11 cities: New Orleans and San Jose.
The AT&T LTE network, which launched in September of last year, is currently offered in 31 cities, far fewer than the 203 that Verizon's LTE network serves. AT&T says that it expects its LTE network to be complete by the end of 2013, at which point users should be able to get 4G service anywhere that AT&T offers its 3G service today. AT&T says 4G customers can expect download speeds of between 5 mbps and 12 mbps, and upload speeds of between 2 mbps and 5 mbps.
AT&T's ace in the hole is its compelling pairing of 4G LTE service and 3G-equivalent HSPA+ service, which turned out to be the fastest combination offered by any carrier in our study. When 4G service becomes unavailable on your AT&T 4G phone, the phone automatically switches over to AT&T's HSPA+ network, which in our tests delivered snappy download speeds (2.62 mbps on average). As a result, users won't experience the dramatic and frustrating 3G-to-4G speed decreases that they would on other services.
AT&T says it kept investing in its HSPA+ network to ensure a smooth transition to 4G LTE.
"We made a decision to roll out ongoing upgrades and invest in our mobile network, on our way to more broadly deployed 4G LTE, so our customers could enjoy fast speeds and the best possible experience," said John Donovan, AT&T's vice president of technology and network operations. "It's great to see the results of our 4G network strategy in PCWorld's tests and in the feedback we're getting from our customers."
Next page: How Sprint performed.
Sprint: Running to Stand Still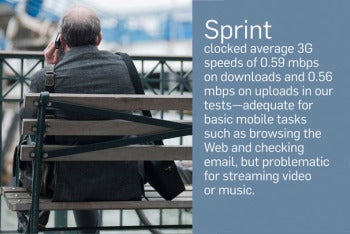 Sprint's 3G and 4G services performed worse than any other carrier's in our study. Sprint's 3G CDMA network has fared poorly in our study for the past two years. And though our tests show that Sprint's 4G WiMax service is marginally faster this year than last year, it's still not in the same league as its rivals' LTE services.
Sprint 3G clocked average speeds of 0.59 mbps (590 kbps) for downloads and 0.56 mbps (560 kbps) for uploads–adequate speeds for basic mobile tasks such as browsing the Web (slowly) and checking email, but problematic for streaming video or music.
There isn't much good news about Sprint's existing 4G WiMax service either. We tested Sprint WiMax last year in seven of the cities included in this year's study. In those seven cities, the service's average speeds improved from 1.99 mbps for downloads and 0.61 mbps for uploads to 2.66 mbps for downloads and 0.92 mbps for uploads. But Sprint's 4G service is about as fast as AT&T's HSPA+ service, and quite a bit slower than T-Mobile's HSPA+ 21 service. Most people consider both of these forms of HSPA+ to be 3G.
Sprint is clearly a company at a technology crossroads. In 2007, eager to be the first U.S. carrier to launch 4G service, Sprint chose the best technology then available, WiMax. Now it's paying a price for that decision in a wireless ecosystem that has overwhelmingly embraced the newer, faster LTE technology.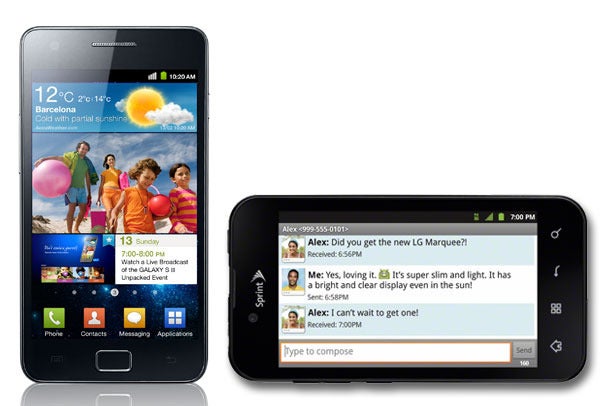 As the number of companies supplying WiMax devices, cellular base stations and other infrastructure equipment has shrunk over the past few years, the cost of running a WiMax network has grown, forcing Sprint to invest far more money than its competitors to build the same speed and capacity into its network. So for the past 18 months Sprint has been figuring out how to shift to LTE while still supporting its existing 3G and WiMax customers.
Sprint spokesperson Kelly Schlageter acknowledges the limitations of her company's network and service today, but she notes that speeds are not the sole measure of a wireless service. "We believe that customers value not only peak speeds, but also, and perhaps more importantly, the overall experience they get from their carrier–a combination of speed, overall network quality, customer experience, and value for the price they pay."
Sprint is executing its "Network Vision" plan to convert its infrastructure to LTE, while working with its WiMax partner Clearwire to convert its network to LTE. The company says it will launch the 4G LTE in several cities this summer.
Sprint network chief Bob Azzi said recently that his company won't release any more WiMax phones (earlier, Sprint had said that it would release new WiMax phones throughout 2012), suggesting that Sprint is serious about launching LTE service by midyear, as promised.
The plan will improve coverage, call quality, and data speeds in Sprint's 3G CDMA service, Schlageter says: "Cell sites with the new Network Vision equipment are popping up across the country now and will continue to come on air over the next 24 months covering the entire CDMA footprint."
Meanwhile, the carrier seems to be caught in a bind, with plodding 3G service and 4G WiMax service that's the slowest 4G option in today's market. "Sprint's 3G network is suffering from chronic underinvestment, and its LTE network isn't ready for primetime yet," says Sanford C. Bernstein senior analyst Craig Moffett.
Next page: How T-Mobile performed.
T-Mobile Wins Big in 3G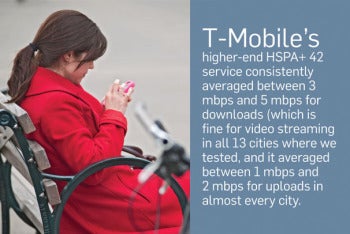 T-Mobile's wireless services don't fit neatly into the 3G and 4G categories that we used in our study. The carrier considers any T-Mobile phone that uses the HSPA+14.4 technology or higher to be a 4G phone. Whether or not HSPA+ is a true 4G technology is a murky subject that continues to spark debate within the wireless industry.
To steer clear of that controversy, we chose to classify T-Mobile's wireless services by how well they matched up with competing services in the marketplace. For instance, the data transfer speeds we recorded when testing T-Mobile's advanced HSPA+42 (named for its theoretical top speed of 42 mbps) service compared well with those for the 4G services of the other carriers, so we treated it as competing directly with those services. We used a new T-Mobile HSPA+42 phone, the HTC Amaze, in match-ups against the late-model 4G phones of the other carriers.
We took the same approach with T-Mobile HSPA+21 service, which compared well with the 3G services of the other carriers, putting it head-to-head against those 3G services.
T-Mobile showed very well in the 3G competition, beating the competition in every city we tested except Dallas and Chicago, where AT&T's HSPA+ service earned top marks. T-Mobile's HSPA+ 21 service clocked download speeds averaging 3.84 mbps across our 13 test cities and upload speeds averaging 1.44 mbps. Overall, T-Mobile's speeds were about 50 percent faster, on average, than those of the second-place finisher AT&T, which posted 13-city averages of 2.62 mbps for downloads and 0.85 mbps for uploads.
T-Mobile's HSPA+ 42 service was extremely consistent, averaging between 3 mbps and 5 mbps for downloads in all 13 cities we tested in, and averaging between 1 mbps and 2 mbps for uploads in almost all cities. That level of speed is fine for video streaming, a service that T-Mobile says many of its customers use frequently.
"Nearly 50 percent of our 4G data traffic is video streaming, and growing, which shows our customers have really embraced the T-Mobile 4G experience," says Mark McDiarmid, T-Mobile's vice president of engineering.
Overall T-Mobile's HSPA+ 42 service delivered a 13-city average download speed of 5.53 mbps, versus 9.12 mbps for AT&T's 4G LTE service and 7.35 mbps for Verizon's. It also blew away Sprint's 4G WiMax service, which averaged 2.8 mbps across the 13 test cities.
Unfortunately, the HSPA+ 42 service's 13-city upload speed average of 1.32 mbps fell well below Verizon's 5.86 mbps and AT&T's 4.91 mbps. That transfer rate could cause problems for T-Mobile customers who want to use their phones to shoot live video or to share large files.
When the T-Mobile HSPA+ 42 is not available, the phone downshifts to the T-Mobile HSPA+ 21 technology, which in our experience usually didn't result in disruptive speed decreases.
T-Mobile's solid performance in our tests comes after a tough financial year for the carrier: The FCC and the FTC blocked its planned sale to AT&T, and more recently it has begun laying off employees (1900 so far) and closing call centers (seven so far).
While T-Mobile markets both of its HSPA+ services as being 4G, it has also announced that it hopes to launch its own LTE service in 2013 to compete with those of its larger competitors. (But since T-Mobile calls its current service "4G," what will it call its LTE network–"4G-er"? "4G+"? "4G 2.0"?) The carrier has said that it is laying off workers and closing call centers to save money for the new LTE network.
Though T-Mobile has been losing customers over the past year–in part because of its long courtship with AT&T–it continues to offer pricing plans (prepaid and postpaid/no contract) that are more flexible and less expensive than the ones its larger competitors offer. And that difference in approach demonstrates the wisdom of scuttling the AT&T/T-Mobile planned merger: The U.S. wireless market needs a (relatively) small, innovative insurgent to compete with the big boys to spur innovation and keep prices in check.
The results of our tests suggest that T-Mobile isn't just the "low-cost leader," either; its data service rivals those of AT&T and Verizon. The fact is that many (though not all) consumers can save money with a T-Mobile plan–and get good data service, too.
"The big winner here is T-Mobile," says Sanford Bernstein's Moffett. "If you can get past the '4G versus faux-G' hurdle, T-Mobile's network offers very good value for the money."
Next page: How Verizon performed.
Verizon 3G and 4G Hold Steady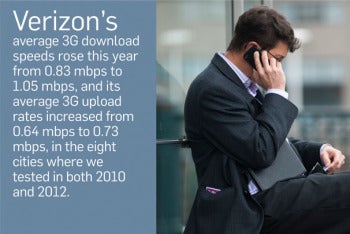 Verizon's 4G was the first LTE service to reach the market; and in this year's tests it showed that it has lost little or no speed since launching in December 2010, averaging 7.35 mbps for downloads and 5.86 mbps for uploads in our 13 test cities. Verizon has told its 4G customers to expect download speeds of between 5 mbps and 12 mbps and upload speeds of between 2 mbps and 5 mbps, and so far it has delivered on those estimates.
Over the past year, Verizon has been trying to move as many of its customers as possible from its 3G CDMA network to its new 4G LTE network. So far, only a small minority of Verizon subscribers use 4G devices, but the number will continue to grow as contracts expire and people upgrade to 4G.
Still, in the short term, Verizon's 3G network will carry the bulk of the company's data traffic, which has grown significantly in the past year as more and more data-hungry iPhone users pull large amounts of data from the network.
Despite these pressures–and in contrast to last year's tests, where Verizon's 3G network yielded slower average transfer times than it had the year before–Verizon 3G has stepped up its speed a bit this year. In the eight cities common to our 2011 and 2012 studies, Verizon's average 3G download speeds rose from 0.83 mbps to 1.05 mbps, while its average 3G upload rates increased from 0.64 mbps to 0.73 mbps.
But Verizon's modest gains in 3G speed came as AT&T and T-Mobile dramatically improved the speed of their 3G-equivalent services over the past two years. Verizon's 13-city average download speed in our tests of 1.05 mbps is less than half the average speed of AT&T HSPA+ (2.62 mbps), less than a third of that of T-Mobile's HSPA+ 21 service (3.84 mbps), and only about 0.46 mbps faster than that of Sprint's CDMA (0.59 mbps).
The average speeds of Verizon's LTE service didn't grow much from last year either, but it was already really fast. The service registered a 13-city average download speed of 7.35 mbps–somewhat lower than the rate that AT&T's new LTE service posted in the 10 cities in our test where AT&T LTE is available.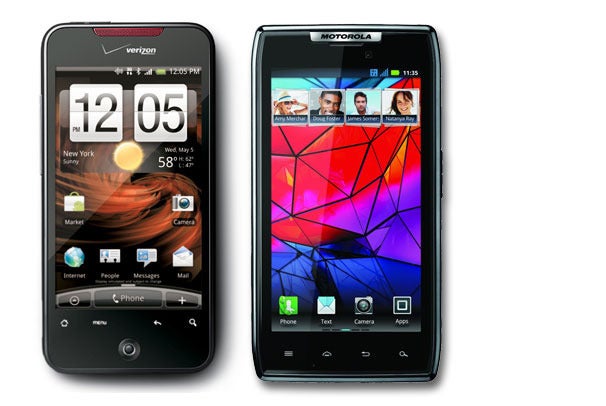 In a statement, Verizon disputes our study's findings: "The vast majority of highly regarded third-party studies and tests consistently place Verizon Wireless 4G LTE network and data services ahead of the pack in terms of speed, quality, and reliability."
In its favor, Verizon's LTE service is battle-tested, highly reliable, and available in far more cities (203 at this writing) than AT&T's. Also, Verizon's LTE network had faster upload speeds than AT&T's did, averaging 5.86 mbps versus AT&T's 4.91 mbps.
Still, our results suggest that Verizon's combination of 3G CDMA and 4G LTE service isn't as compelling today as AT&T's combination of 3G HSPA+ and 4G LTE technology. Verizon's LTE is slower than AT&T's for downloads; and when a Verizon 4G device loses its 4G connection, it falls back to Verizon 3G–an average drop in our tests from 7.35 mbps to a modest 1.05 mbps. If this happens while you're in the midst of uploading a file or watching a video, the slowdown can be very noticeable. In contrast, an AT&T 4G user would experience a less disruptive downshift to 3G, dropping from a 9.12 mbps average download speed on 4G to a 2.62 mbps average on 3G.
Verizon says that its 4G users won't have a "CDMA fallback" problem for long. "[T]he Verizon Wireless customer's 4G experience increasingly is contained within the 4G footprint," the company noted. "And by next year, our 4G LTE network will cover virtually the entire US, rendering the overstated 4G vs. 3G coverage discussion moot."
Next page: Our testing methodology.
Methodology in a Nutshell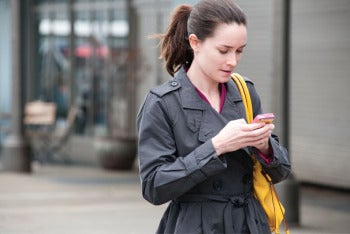 Ken Biba, CTO of our testing partner Novarum, traveled to Atlanta, Boston, Chicago, Dallas, Denver, Las Vegas, Los Angeles, New Orleans, New York, San Francisco, San Jose, Seattle, and Washington, D.C. to test the performance of each of the four national wireless services (AT&T, Sprint, T-Mobile, and Verizon) at various locations of the cities. Our test cities were chosen for their varying population densities, physical topography, and cellular environments.
We tested the various wireless services at ten locations in each city—five indoors (often in a Starbucks) and five outdoors. We selected testing locations based on a grid covering the center of the city, but we did not test service in suburbs or in rural areas.
We asked the four wireless carriers to send us the 3G and 4G phones they thought would perform best on their data networks. For our 3G tests, we got a Motorola Atrix 2 (AT&T), an LG Marquee (Sprint), a Samsung Sidekick 4G (T-Mobile), and an HTC Droid Incredible (Verizon). For our 4G tests, we received an HTC Vivid (AT&T), a Samsung Galaxy S II (aka Epic 4G Touch, from Sprint), an HTC Amaze (T-Mobile), and a Motorola Droid Razr (Verizon).
On each phone, we used the FCC-approved Ookla testing app to measure speeds. At each testing location, we had Ookla send data to and from a server on one coast, and then to and from a server on the opposite coast; then we averaged the results. Especially with 4G service, we found that the farther the server is from the device, the higher the network's latency time (the time that passes before the transfer starts) is, and the slower the upload and download speeds are.
If no 4G signal was available, we recorded the speed of the fallback 3G network.
We chose our overall winners based on a weighted composite score that factored in the services' download speeds and their upload speeds. Each resulting speed number has a margin of error of plus or minus 5 percent.
Because wireless signal quality depends to a large extent on variables such as network load, distance from the nearest cell tower, weather, and time of day, we can't predict exact performance in a specific area based on our results. However, the results do illustrate the relative performance of wireless service in a given city on a given day.
Reading the Charts
The city-specific charts (like the one for Atlanta at right) report average 3G and 4G speeds–both for uploads and for downloads–for each wireless carrier in each of the 13 cities where we conducted testing. The bars on the left represent 3G speed data, and those on the right represent 4G speed data. The lower set of bars in each case shows the carriers' average download speed for the city, and the upper set reflects their average upload speeds.