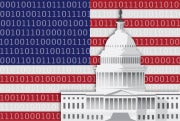 The U.S. government still publishes data in too many formats and requires contractors or grant recipients to send it information in multiple formats, according to a new coalition of tech vendors.
The Data Transparency Coalition, whose members include Microsoft and Teradata, launched Monday and will push for U.S. government agencies to standardize federal data published online. One of the immediate goals of the coalition is to advocate for Congress to pass the Digital Accountability and Transparency (DATA) Act, sponsored by Representative Darrell Issa, a California Republican, and Senator Mark Warner, a Virginia Democrat.
The DATA Act, first introduced by Issa last June, establishes an independent board to track all federal spending on a single website and requires agencies to report data in a standardized format. The bill mandates the use of governmentwide identifier codes and markup languages, such as XBRL, in an effort to make government data easily searchable.
Issa has championed the DATA Act as a step toward a "transparent and accountable government the American people deserve."
Right now, it's difficult to extract government data from many agencies, said Hudson Hollister, executive director of the Data Transparency Coalition. In many cases, agencies don't yet publish spending information, regulatory filings, corporate disclosures or legislative actions online, he said.
"The government's not managing its data," Hollister said. "There's nobody in charge of figuring out standard markup language to report it. There's nobody minding the store looking at the whole enterprise."
A lack of standard data formats and standard ways that government award recipients are identified causes confusion about the way government spends money, Hollister said. On USAspending.gov, the current website to track federal spending, the same award recipients come up multiple times during searches, because their names are spelled in multiple ways, he said.
"Because we don't have standard identifiers, we can't properly track federal spending," Hollister said. "We can't aggregate all the grants and contract awards a contractor receives."
The coalition members have services that use federal data, and standardization of formats would help their efforts, Hollister said. But beyond their business interests, better data transparency would allow U.S. residents to better understand their government and its budgets in this time of budget shortfalls, he said.
"The only way for citizens and the government to understand what's being spent is to track every dollar," he said.
The DATA Act, which has strong support from House of Representatives leadership, may see a vote on the House floor within a couple of weeks, Hollister said.
The coalition also supports other proposals, including the Public Online Information Act, a bill sponsored by Representative Steve Israel, a New York Democrat, and Senator Jon Tester, a Montana Democrat, that would require federal laws or regulations with public information requirements to be published online in machine-readable formats.
The group wants to "make some noise about data transparency," Hollister said.
Grant Gross covers technology and telecom policy in the U.S. government for The IDG News Service. Follow Grant on Twitter at GrantGross. Grant's e-mail address is grant_gross@idg.com.