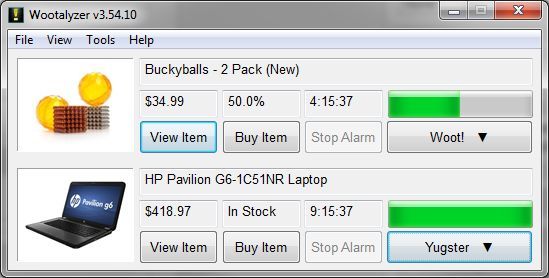 As a card-carrying cheapskate, I'm always on the lookout for the greatest bargains the Internet has to offer.
Of course, being on the lookout usually means jumping from one deal-of-the-day site to another, a seriously time-consuming task.
That's why I'm glad I've found Wootalyzer, a free utility that tracks daily deals for you.
The program resides in your System Tray, alerting you whenever a new deal gets posted on any of a variety of deal sites: Woot (the app's namesake), Amazon, Newegg, Yugster, and so on.
And those are just the tech spots. Wootalyzer can also pull deals from sites that sell clothing, music, sports, wine, and other goods. For any given item, you're shown a thumbnail image, the price, the size of the discount, the time remaining, and, where available, remaining inventory. With one click you can view the item on the company's Web site or go straight to the purchase page.
You can configure the program to display one or more "trackers" at a time, meaning you're not limited to viewing just one store's deal. (In the screenshot above, I've got it showing two.) It's especially helpful for tracking Woot's occasional "Woot-offs," which offer a particular item until its sold out, then switches to another item.
You can leave the Wootalyzer window open (in your choice of sizes), or minimize it to the System Tray. When minimized, the program will play an alarm whenever there's a new item or low stock on a selected item.
My only gripe with the program is that I can't figure out how to enable certain deal sites that are listed in the settings, but have a red 'X' next to them. For example, every single store under the Sports category was disabled, even though the stores themselves were still open and their daily items still available. Not sure if something's broken or I'm doing something wrong, but it's a little vexing.
Even so, I think Wootalyzer is a handy companion for bargain shoppers, as it makes browsing the daily-deal sites admirably quick and easy.
Contributing Editor Rick Broida writes about business and consumer technology. Ask for help with your PC hassles at hasslefree@pcworld.com, or try the treasure trove of helpful folks in the PC World Community Forums. Sign up to have the Hassle-Free PC newsletter e-mailed to you each week.