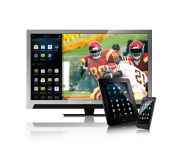 Are you wondering what it means to own a smartphone, tablet, or HDTV that's MHL-certified? Here's how MHL works, and how it can benefit you.
Back in 2009, Silicon Image developed a prototype mobile audiovisual interface called Mobile High-Definition Link to output high-definition content from a smartphone to a HDTV. A year later, Nokia, Samsung, Silicon Image, Sony, and Toshiba announced the MHL Consortium, a group developed to oversee the licensing and promotion of the specification.
MHL is an audiovisual interface standard for connecting a mobile device to HDTVs and other displays using a single cable that charges the device while providing up to 1080p video and digital audio, all at once. Since that cable employs the common Micro-USB specification, you don't need fancy or particularly expensive equipment to take advantage of MHL; if your phone or tablet supports MHL, it will plug right into your HDTV or other compatible viewing device via HDMI on the other side of the connection. Displaying HD audio and video through MHL doesn't even use all of the available pins on the cable, so the cable has room to transmit power as well.
That feature is important, because if you're going to use your phone to play high-definition video on your big screen, you're going to need a lot of power. After all, it's no secret why your smartphone battery sucks–it's that big, beautiful phone screen. Most phones today will encounter battery issues while pushing a 1080p movie to a massive HDTV; however, with an MHL cable charging the phone or tablet while it's playing, you'll have a juiced-up device that's ready for mobile use when you're done watching the latest Hollywood blockbuster.
All MHL-ready HDTVs also include provisions to allow users to control connected mobile devices with the HDTV remote via CEC (Consumer Electronics Control) technology, which uses the HDMI connection to send commands to compatible smartphones and tablets.
More and more MHL-compatible devices are coming out every year, and chances are good that you already own an MHL-compatible smartphone or HDTV. LG, Samsung, and Toshiba all offer MHL-ready devices among their high-quality HDTV lines. You can find a ton of MHL-compatible smartphones and tablets, too. HTC, Huawei, Lenovo, LG, Meizu, Motorola, Pantech, Samsung, Sony–almost every major player in the mobile arena (save Apple) sells a product that is MHL-compatible.
And thankfully, setting up an MHL connection in your home theater is easy. The first step, naturally, is to buy an MHL-compatible smartphone or tablet; for our testing we used a Samsung Galaxy Nexus, along with a Westinghouse 37-inch 1080p HDTV. The television we used is not MHL-compliant, but that fact actually made it a perfect choice for our demonstration, because it helps to illustrate how easy it is to get this system up and running even when you don't happen to own two MHL-compliant devices.
Next you'll need to pick up an MHL cable that works with your mobile device and HDTV. This step is really simple if you happen to own devices from the same manufacturer (a Samsung Galaxy Nexus and a Samsung 55D7000 HDTV, for example), because you can buy an MHL cable direct from the manufacturer. Otherwise you'll need to buy a generic MHL cable that works with your smartphone or tablet. For our tests we bought the Samsung MHL-to-HDMI adapter, which will set you back about $17.
Next you'll need to obtain a good HDMI cable that can comfortably stretch from your HDTV to your mobile device. HDMI cables are a dime a dozen these days, and thanks to PCWorld Labs testing we know that expensive HDMI cables are a poor value unless you need to cover some serious distance. Buy some good cables that will last, but don't pay an arm and a leg for the privilege.
Now, if you have an MHL-compliant HDTV, plug your smartphone or tablet directly into your HDTV via the MHL cable, and you should be all set to start outputting high-definition video right from your mobile device. If you don't own an MHL-compliant television, you need to take one additional step: After plugging your MHL-to-HDMI adapter cable into your HDTV's HDMI port as well as into the Micro-USB port on your mobile device, go ahead and plug a Micro-USB charger (which should have come with your smartphone or tablet) directly into the Micro-USB port on the adapter cable itself. This arrangement will allow you to output video from your device to your HDTV as usual, while also charging your device at the same time.
And that's it! The MHL system is completely plug-and-play: Your device will flip to landscape mode when it's plugged in, and it will push the desktop display to your television. It's important to note that when you're using an Android device on your HDTV, you will see only the mobile versions of websites, and you will have to navigate via the phone's screen. However, you can use a Bluetooth keyboard and mouse to navigate, and basically turn your smartphone or tablet into an impromptu PC.
The best thing about MHL technology is that it's coming to many more things than just televisions. Companies such as Pioneer have developed in-dash receivers that work with Android devices via MHL (the product also works with iPhones via a different adapter) to allow hands-free calls and access to compatible apps via a large multitouch screen built into your vehicle's dash. Roku has also joined the MHL revolution with its new Streaming Stick, a replacement for the normal Roku "puck" set-top box. This item works only with MHL-compatible televisions right now, but as more such devices are released, it won't be long before something as small as a USB stick can replace every set-top box you have.
Even though it's still nascent technology, the future of MHL seems exciting. Do you already have an MHL-compliant device? Do you intend to get one? Let us know in the comments!