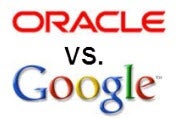 Google built Android using parts of Java that didn't require a license and it had the full support of Sun Microsystems in doing so, a lawyer for Google said in court Tuesday.
"The source code in Android was written by Google engineers or taken from open source platforms that were available and open for use," attorney Robert Van Nest told the jury in Google's opening statement.
Sun's own chief executive, Jonathan Schwartz, congratulated Google when it released Android, saying it strapped a "set of rockets" to Java that would help ensure its success, Van Nest said.
Van Nest delivered his opening statement on day two of the trial in Oracle's lawsuit against Google. Oracle accuses the company of infringing its Java patents and copyrights in Android.
Sun's support for Android proves that Google didn't violate Sun's patents and copyrights, since Sun had ample opportunity to view the Android source code that was posted on Google's website, Van Nest told the jury.
Oracle delivered its opening remarks Monday, arguing that Google's decision to use Java was taken at "the highest levels" and with the knowledge that Google was infringing.
However, Oracle now wants to "share in Google's success with Android" even though it had nothing to do with its development, Van Nest said.
Van Nest spent some time explaining the various components of Java to the jury, including the programming language, the Java APIs (application programming interfaces) and the Java virtual machine.
At one point, he hauled a filing cabinet into the room to help illustrate how the different components fit together — the cabinet, drawers and manila folders each representing different parts.
Google argues that the Java programming language and the APIs are essentially two parts of the same thing, and that the APis aren't copyrightable because the language isn't copyrightable. Oracle argues that the APis are distinct and that Google needed a license to use them.
Oracle's own statements suggest that Google made fair use of Java, Van Nest argued. He showed a video clip of Oracle CEO Larry Ellison on stage at JavaOne, after Oracle had announced its plans to buy Sun.
Sun did an excellent job of "opening Java up to the world" and Oracle expects to be doing "more of the same," Ellison says in the video clip.
"I think we can see lots and lots of Java devices, some coming from our friends at Google, but I don't see why some of those devices shouldn't come from Sun-Google," Ellison continues in the video.
One reason Oracle decided to sue Google is because Oracle hoped to build its own smartphone platform, but the effort failed, according to Van Nest.
The trial continues Tuesday and Ellison is expected to be called among the first witnesses.
James Niccolai covers data centers and general technology news for IDG News Service. Follow James on Twitter at @jniccolai. James's e-mail address is james_niccolai@idg.com