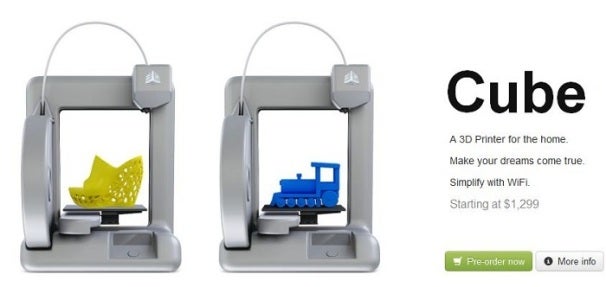 If you have $1,300 to drop on a gizmo that builds plastic prototypes of shoes, bracelets, piggy banks, and assorted knick-knacks, 3D Systems' new Cube 3D home printer will certainly put you on the cutting edge of consumer tech.
Pitching its pricey Cube 3D as "the first consumer 3D printer for children ages 8 to 80 years," 3D Systems today announced plans to exhibit the device at Earth Day New York, which takes place April 19-21 at Grand Central Station in Manhattan.
Given Cube 3D's lofty price tag, it probably won't become a popular home item anytime soon. Schools, however, may find Cube 3D useful in the classroom, and 3D Systems is targeting the education market as well.
"I am very excited to participate in Earth Day New York and share with children, parents, and teachers the transformative and environmentally responsible power of 3D printing," said 3D Systems' CEO and President Abe Reichental in a statement.
An emerging technology, 3D printing allows scientists, artists, and even bad guys to swiftly build three-dimensional prototypes. Plastic is usually the preferred material for these creations, but 3D printers can use a variety of other materials, including stainless steel, Styrofoam, and even human tissue.
In fact, 3D printing is so hot that the scallywags at The Pirate Bay recently created a new category on their torrent site for files that allow 3D printers to create physical objects.
Cube 3D prints physical objects as large as 5.5″ x 5.5″ x 5.5." It ships with materials to create 25 plastic objects in a variety of colors.
Contact Jeff Bertolucci at Today@PCWorld, Twitter (@jbertolucci) or jbertolucci.blogspot.com.