At a Glance
Expert's Rating
Pros
Can be used to circumvent geolocation
Simple to use
Cons
Pricy compared to competition
Our Verdict
Protect your privacy when using the Internet.
When you browse the Web, you are constantly being tracked. It's not personal: It's marketing. Website owners and ad networks want to learn as much as they can about you, so they can target their content and ads effectively. After all, there's not much use in showing ads for anti-aging products to a sixteen-year-old. That said, not all users appreciate being tracked so meticulously, and this is where Anonymizer Universal and other VPN applications come in.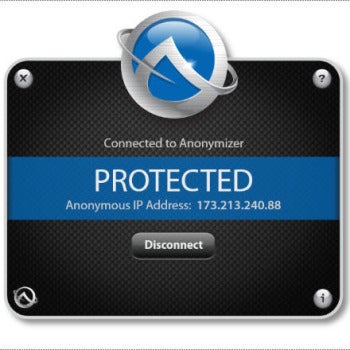 VPN stands for Virtual Private Network: A technology used by many businesses to allow workers to securely access the office network from home or while on the road. This same technology can be used for providing secure access to a much larger network–the Internet. That's exactly what Anonymizer Universal does: It creates an encrypted VPN link (or tunnel) between your computer and Anonymizer servers. All of your Internet traffic goes to Anonymizer first, and then comes out of a random, US-based IP address.
The idea of protecting Internet anonymity using a VPN is not a new one, and the VPN market is highly competitive. Take TunnelBear for example: This is a VPN service that has a one-button interface just as simple to use as Anonymizer Universal, can also be used for US-based browsing, and costs $50 per year compared to Anonymizer's $80.
In practice, Anonymizer Universal is completely transparent. Its compact window features a single button, and a large banner telling you whether or not you are protected. It is important to note that the only protection you get here is for some of your privacy: Anonymizer is not an antivirus, and more important, it does not prevent Internet marketers from placing cookie files on your computer. These files are used to keep you logged on to services like Gmail and Facebook–in other words, they let remote systems identify your computer with confidence, regardless of its IP address. This can also be useful for marketing purposes.
One of Anonymizer's strongest selling points, to me, is something the company almost doesn't speak of in its marketing materials: All of the anonymous IP addresses are US-based. After activating Anonymizer, I was able to jam to Pandora radio and watch Hulu with ease and with no lags–two things I normally cannot do, being based in Israel.
Anonymizer provides a valuable service that somewhat enhances your online privacy, but I wouldn't call it complete protection. It is a solid VPN with a simple interface–but you may want to shop around before paying $80 for a year of service.
–Erez Zukerman