If you still haven't upgraded to Snow Leopard, and you paid for Apple's cloud-based MobileMe service back when it still cost money, you can now snag the OS X upgrade for free.
Macgasm reports that Apple has been sending out emails to MobileMe users who have yet to upgrade to the three-year-old OS X update. The reason for this offer–Apple's MobileMe service will end on June 30, 2012, and Mac users will need the latest version of Mac OS X (Lion) to take advantage of Apple's new iCloud. The upgrade to Lion will still cost users $29, but they can now get the formerly-$29 upgrade to Snow Leopard for free.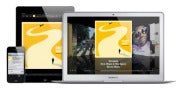 Snow Leopard originally debuted in June 2009, so it's actually three-year-old OS, and users who are still running Leopard are two iterations behind.
MobileMe users can request a DVD copy of Snow Leopard from Apple, as long as they do so by June 15, 2012. The Snow Leopard upgrade still appears as a $29 download on the Mac App Store, and there's no word if Apple will eventually be offering the older OS for free to everyone, or just to (formerly) paying MobileMe users.
If you are one of those users, you can also request your DVD on Apple's MobileMe website.