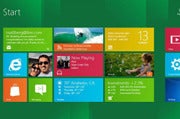 If you're looking forward to Windows Phone 8, you might not want to buy a Nokia Lumia 900 or any other Windows Phone 7.5 handset.
According to several reports, existing Windows Phones will not be upgraded to the next major software version, known as Windows Phone 8 or "Apollo." ZDNet's Mary Jo Foley floated the idea in March, and The Verge recently lent credence to the story with its own unnamed sources.
More evidence comes from Nuno Silva, a developer evangelist for Microsoft. This week, Silva told Zwame, a Portuguese website, that all Windows Phones to date would get the next major version of the software, but in a blog post, he retracted those comments.
"The point I was attempting to make was simply that existing Windows Phone applications will run on the next version of Windows Phone," Silva wrote. "… I mistakenly confused app compatibility with phone updateability, which caused the rumors we saw yesterday."
Some of Windows Phone 8's new features reportedly have to do with hardware, which wouldn't affect older phones anyway. PocketNow and Paul Thurrott have reported that Apollo will include support for near-field communications, multi-core processors and a wider range of screen resolutions. Windows Phone 8's supposed software features include cloud sync across all Windows devices, Exchange ActiveSync support, removable microSD storage and possibly Skype integration.
Microsoft hasn't made any official statements on the upgrade path for existing Windows Phones. The company is still trying to get Windows Phone off the ground, and finally has the hardware to do it in Nokia's Lumia 900. From a business standpoint, now is not the time to tell customers that they'll be left behind. Still, many customers — especially those who keep a close eye on technology — will surely feel burned by Microsoft if they don't get any more major updates.
Follow Jared on Twitter, Facebook or Google+ for even more tech news and commentary.