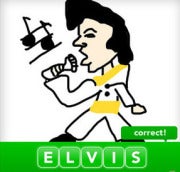 Raise your hand (or your phone) if you've ever lost a particularly lovely Draw Something sketch — a pocket-sized pièce de résistance — to the digital void. Now put down those hands, then bring them together for a round of applause: The game's creators just added several new long-awaited features, including one that finally lets you save your favorite finger-sketched roughs.
The update — for iOS with Android support to follow — lets players save drawings to their device's photo libraries, comment on other players' drawings, and upload pictures direct to Facebook and Twitter (so no, the kids haven't hijacked your friend such-and-such's timeline, it's probably just someone trying to draw Elvis again).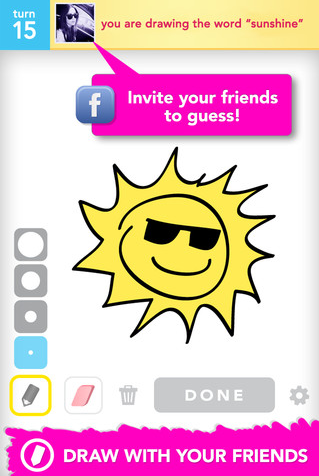 Draw Something's last newsworthy event involved Zynga, the social network developer/publisher behind FarmVille and others, paying over $200 million for OMGPOP's "social drawing and guessing game" (it's essentially just a mobile Pictionary riff). In the game, you draw clues your opponent has to guess, the twist being that the drawings then animate in real-time.
Other welcome improvements to the game include an "undo" option that lets you back one stroke, though only one (still, no more fiddling with the eraser option to correct wayward scribbles). You can also now add brief notes of up to 100 characters to drawings. On iOS devices, "pull to refresh" is now supported for updating your game list. And the number of drawings you render in a session, previously capped at 99, has been boosted to 999.
In a related update, Zynga's just added over two dozen new celebrity names to the game, including Kate Winslet of Titanic fame per the 100th anniversary of the doomed passenger liner going down.
Matt Peckham writes for TIME and PCWorld. You can find him on Twitter, Facebook, or Google+, and follow Today@PCWorld on Twitter for the latest tech news and analysis.