A refreshed iPhone is expected in October, and Apple is considering using a material called liquidmetal in order to differentiate itself from the competition, according to reports. iPhone 5 rumors aside, what is liquidmetal and why build a phone out of something that sounds so strange?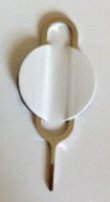 The material known as liquidmetal is not actually liquid. It was discovered back in 1992 at the California Institute of Technology and it's made of a mix of titanium, nickel, copper, and zirconium, among other metals. The resulting material is very tough, light, and it's said to feel as smooth as liquid or glass when touched; hence the name.
Liquidmetal has been used in various consumer electronics and gadgets by now due to its special properties: it's very durable, it has the lightness of plastic, it's scratch resistant and smooth to the touch. SanDisk used it for one of its Cruzer USB flash drives and Sansa MP3-players, as well as in certain Vertu phones under Nokia's umbrella.
The material has also been used in jewelry, medical devices, sporting items such as golf clubs, and even in phones for hinges, antennas, and cases, since 2003 when the California Institute of Technology team organized a firm to market it under Liquidmetal Technologies.
Apple and Liquidmetal
In 2010, Apple purchased worldwide exclusive rights to use liquidmetal in its products for around $20 million, and since, there have been some Apple products that made use of this material — but you wouldn't know it. The SIM card ejector tool that comes with the iPhone 4 and Phone 4S is made with liquidmetal technology, as well as the same tool for iPads distributed in certain countries.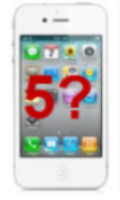 Further use of liquidmetal in a new iPhone would mean that Apple is exploring uses of the technology beyond a small pin to take out your SIM card. A liquidmetal case for the iPhone means that the phone won't be as scratch-prone as its siblings with a glass back, lighter, and less likely to shatter into pieces if you drop it.
The use of the material for the phone case would also allow for a slimmer profile of the iPhone, as well as make it stand out against other smartphone manufactures, which are still mainly using various types of plastic for their devices. So while liquidmetal might sound strange, if it makes it into the next iPhone, we might see one of the most durable and slim smartphones so far.
Follow Daniel Ionescu and Today @ PCWorld on Twitter