Samsung's Galaxy S III — or something similar to it — has been caught on camera ahead of a likely official announcement next month.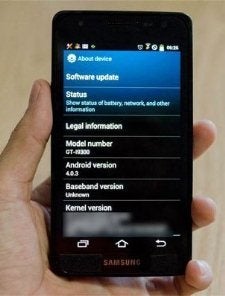 The phone, whose model number GT-I9300 follows the same naming conventions of previous Galaxy S devices, appeared in a video on Tinhte, a Website notorious for revealing unannounced new phones. The video was promptly removed from the site, but Engadget grabbed a copy.
Leaked specs show a 1.4 GHz quad-core processor, a 4.6-inch display with 1184 by 720 resolution, 1 GB of RAM, an 8-megapixel camera, 16 GB of storage, microSD expandability, and a 2050 mAh battery.
The device will also reportedly have NFC capabilities, but it's not yet clear how that will work. (Samsung's Galaxy S II has an NFC chip as well, but it's been laying dormant on the phone's AT&T and T-Mobile variants.)
Most interesting, perhaps, is the phone's use of software navigation buttons, consistent with Samsung's Galaxy Nexus, instead of dedicated hardware buttons. That, combined with a smaller display than previously rumored, suggests that the workable screen size for the phone will be roughly the same as the Galaxy Nexus.
As for the phone's general appearance, the bulky plastic case in the video is apparently just a shell to hide the final design. Some reports have hinted at ceramic and metal outer materials for the phone, but the video gives nothing away on that front.
Now, here's where things get tricky: Last month, GSM Arena reported that the I9300 is not the Galaxy S III, but rather a mid-range phone dubbed the Galaxy M. Boy Genius Report has also claimed that the real Galaxy S III will have physical navigation buttons, which is not the case in the leaked video.
But given the fast processor and 720p screen resolution, I'd personally be happier if the phone in the video was the real Galaxy S III, instead of the hulking mass with physical buttons described in earlier reports. We'll find out for sure on May 3, when Samsung will hold an event to reveal "the next Galaxy."
Follow Jared on Twitter, Facebook, or Google+ as well as Today @ PCWorld for even more tech news and commentary.