At a Glance
Expert's Rating
Pros
Encrypts Wi-Fi communications
Free
Cons
Loud advertising in your browser with free version
Our Verdict
Keep yourself safe at public hot spots–for free.
Hotspot Shield is a private VPN service that will secure your wireless communications–for free. The fact that it's free is a major boon; however, you'll have to put up with some rather blatant advertising in your Web browser as non-monetary compensation. There's a pay version costing a mere $30 a year that foregoes the advertising–I recommend that one over the free version.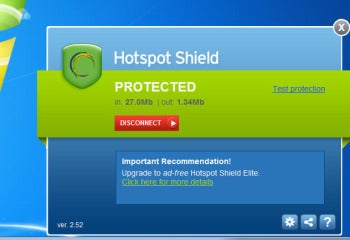 Hotspot Shield employs OpenVPN, which is a well-documented, stable piece of open source virtual private networking software. There's nothing wrong with that in this instance, as the value of Hotspot Shield and other VPN purveyors is in providing the server for the VPN connection. Kudos to OpenVPN for the public service.
Nicely, Hotspot Shield configures itself silently; there's no entering a user name and password or specifying a server location. Simply run it, and turn it on. To use the $30 Elite version you buy it and log on once at the Elite site, and the ads will disappear.
One perk that the Wi-Fi security companies don't seem to play up is that they are high-speed proxy services that hide your real WAN IP. When you use Hotspot Shield, your publicly visible IP address becomes that of the server you connect to. If you like to limit your exposure on the Web, this a great feature. Given the slow speed of most free proxy servers, you could consider Hotspot Shield for that alone.
Personally, I find that the $30 a year Hotspot Shield Elite costs is a better option than my browser bombarding me with more advertising than it already does. But free is always good, and if you're only in the coffee shop once in a while the ads are livable. By the way, $30 is relatively cheap; Private WiFi costs $85 a year, though their $10 monthly charge is great for short spans. Hotspot Shield Elite is available for three months for $14 and handily offers the service for OS X, iOS, and Android.
Note: Hotspot Shield and other VPN services rely on communicating with their own servers, which may or may not be nearby. Although it's not likely, you could be in a location where you have a slow path to the closest VPN server. Try it before you buy it.
–Jon L. Jacobi