If you were just getting used to the black Google services navigation bar, the search company is already getting rid of it. Google announced that it's "ready for the next stage" of its redesign, part of which is a new service navigation system nested under the Google logo.
The new navigation system began rolling out to users on Tuesday and Google said on Google+ that it should reach most users by the end of this week. Google's new navigation bar links to your services in a drop-down menu nested under the Google logo across several services, including Search, News, Gmail, Google+ and Maps.
The nav bar has three main regions – on the left, the Google logo menu shows a list of links Google services when you hover over it and lets you access additional Google sites by hovering over the 'More' link at the bottom of the list. The central area has a search box and the right side has a share box and Google+ notifications (visible from any Google page).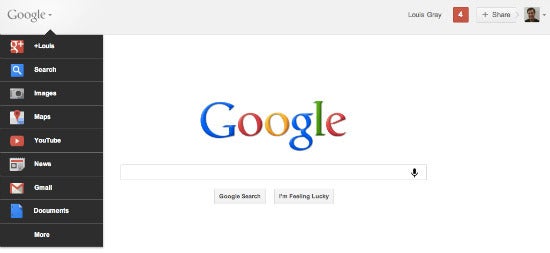 The new menu is displayed whether you are signed into your Google account or not. When singed in, the right portion of the bar displays the number of alerts on your Google+ account (viewable when you click on the number in the red box) and you can share items to your circles from the same menu, as long as you are on a Google property using the bar.
The (now) old-style black navigation bar was launched just six months ago and is being ditched in favor of the new system. Google Technical Lead Eddie Kessler said: "Making navigation and sharing super simple for people is a key part of our efforts to transform the overall Google experience, which is why we're very excited about this redesign."
Google is also culling a lot of its less popular services. Earlier this month, the company said it will shut down Friend Connect, Knol, Health, Bookmarks Lists, which lets people share bookmarks, and Search Timeline. Earlier in September and October Google also axed Buzz, Jaiku, Aardvark, Desktop and Fast Flip.
If you don't have the new Google bar yet, here's a quick video preview.
Follow Daniel Ionescu and Today @ PCWorld on Twitter