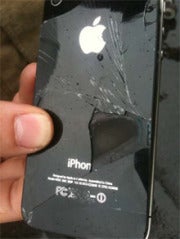 In what appears to be a one-off incident and not a general manufacturing flaw, a passenger's iPhone 4 "self-combusted" on an Australian flight last Friday, according to an airline press release [PDF].
The iPhone started belching smoke and glowing red (like HAL's eye) after Regional Express flight ZL319 from Lismore to Sydney landed. A flight attendant quickly extinguished the mysterious red glow, and no one was harmed.
The Australian Transport Safety Bureau is investigating the incident and hasn't yet released the definitive cause of the smartphone's malfunction. However, Mashable spoke to an Apple product service specialist, who said it was "plausibly caused by a combination of a defect in the battery cell with a failure in the phone's battery-temperature management system."
Since this appears to be a freak accident, not a recurring defect, don't chuck your iPhone or demand a massive recall along the lines of the first-gen iPod Nano yet.