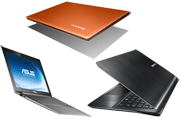 If you've been thinking of getting yourself an Ultrabook–that hot new category of ultrathin laptops–you probably should wait a couple of more months, since sources are reporting prices may fall 5 percent to 10 percent in the first quarter of 2012.
This speculation comes from Digitimes' stable of Taiwan-based supply chain makers, who say that Intel is offering a $100 subsidy to laptop manufacturers to drive down Ultrabook prices and ramp up production. Ultrabooks are already predicted to arrive in a flood at CES in January. Making them more affordable could give these laptops an even bigger boost.
Right now, Ultrabooks range in price from $799 (Best Buy exclusive price) for a Toshiba Portege Z835 to laptops with upgraded specs and bigger price tags like the $1,200 Lenovo IdeaPad U300S and the $1,299 Aspire S3. You can even configure the Portege Z830 line to set you back more than $1,400–a far cry from the sub-$1,000 target price Intel had promised when Ultrabooks were announced back in May.
Digitimes reports that prices for Ultrabooks from Acer, Asus, and Toshiba will likely be lowered before the end of 2011. With another 5 percent to 10 percent price drop in early 2012, you could possibly save over $100 just by being patient.
Follow Melanie Pinola (@melaniepinola) and Today@PCWorld on Twitter