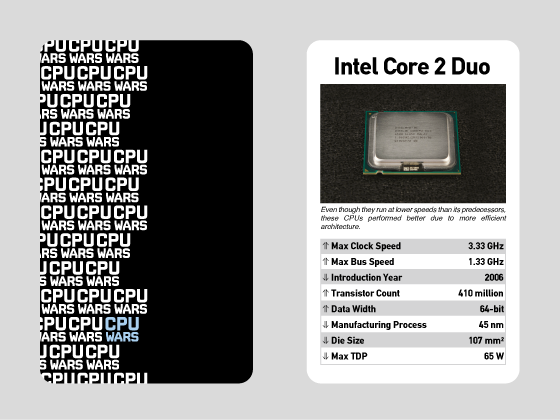 Sick of sitting around alone on a Friday night programming and attending boring lectures on NP-Complete Reductions while all your friends are out at happy hour? You're not alone, we're geeks and we don't know any better. But thanks to computer engineer Harry Mylonadis, you and your fellow geeks may soon meet up on those lonely Friday nights and play CPU Wars. It's probably the geekiest card game ever invented.
Just like many other card games out there, CPU Wars is a battle for the cards with the most points, or in this case, the CPU with the highet specs. This is also known as a Trump card–a card that outranks all the other cards being played.
To play CPU Wars, the deck of 30 cards is evenly split between the players–preferrably 2-3 but as many as 6 can play. Next, the each player takes their turn and picks a card that they believe has the highest value. The CPUs have a measurable value or spec such as the maximum CPU speed and the maximum number of transistors.
Mylonadis says that the game is "lots of fun, it has a bit of strategy and can be played during a break or over a coffee."
According to Harry, after months of literally collecting CPUs, analysing the specs, and designing the cards, CPU Wars is ready to print. But tha's where he needs the help: He's seeking at least $3500 on Kickstarter to begin production.
If you're willing to contribute there, Harry is offering all kinds of rewards for your pledges, including your very own CPU Wars card decks. And if your really generous, you'll actually get a CPU that Mylonadis used to make the game. As of this writing, Harry's raised a little over $1000 with three weeks to go.
Update, Dec 2, 2011: Harry met his kickstarter goal for CPU Wars–we're looking forward to seeing this game become reality!
[Harry Mylonadis on Kickstarter]
Follow James Mulroy on Twitter and on StumbleUpon to get the latest in microbe, dinosaur, and death ray news.
Like this? You might also enjoy…
Get More GeekTech: Twitter – Facebook – RSS | Tip us off