Many cellphone users are wondering whether their Android and BlackBerry devices are spying on them after security researcher Trevor Eckhart recently claimed that a piece of diagnostic software on the phones was acting like malware. Eckhart said the software, created by company Carrier IQ and installed on devices by phone manufacturers and carriers, was secretly recording user data such as keystrokes and Web browsing history. Carrier IQ's software is on more than 140 million handsets worldwide.
Carrier IQ denies Eckhart's allegations and says its technology is only used for diagnostic purposes to improve handset performance and network quality.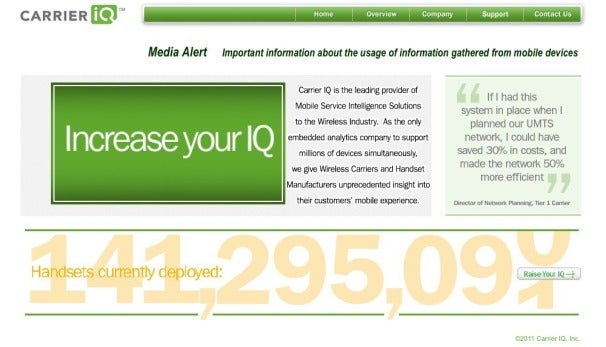 So is Carrier IQ up to no good? Is the company's software collecting more information from your handset than it should? Or is this just a big misunderstanding about what Carrier IQ's software does?
Here's a breakdown of what we know.
What was discovered?
Eckhart published a report in mid-November about a piece of software created by Carrier IQ. This software is supposed to be a diagnostic tool that helps manufacturers and carriers improve the quality of their services. But Eckhart claimed Carrier IQ's software is actually a rootkit that secretly logs your phone's activity.
Carrier IQ diagnostic software comes installed on many phones including Android and BlackBerry devices, according to Eckhart. Carrier IQ software was later discovered on iOS devices but it appears to be benign.
In Video: Carrier IQ Captures Personal Mobile Data
What was the software doing?
Eckhart posted a video to YouTube showing what he said was Carrier IQ software running on an HTC handset. In the video, the Carrier IQ software appears to be logging key presses (including the phone's number pad), SMS messages, location data, and Web browsing history including encrypted data traveling over https (SSL). It's not clear whether this data was then sent to Carrier IQ.
Does it do the same thing on all phones?
Eckhart's demonstration shows only what Carrier IQ's software was doing on an HTC phone. Samsung devices appear to log some of the same information including screen taps and browser URLs, according to Eckhart's report.
Developer Grant Paul (no relation to the author) claims that on iOS devices, Carrier IQ software was accessing a more limited set of information including your phone number, carrier, country, when a phone call is active, and your location if Location Services is turned on.
The Verge is reporting that Carrier IQ software is not on Motorola's Xoom or Nexus-branded Android phones including the Nexus One, Nexus S, and Galaxy Nexus.
Can Carrier IQ software be removed?
It doesn't appear to be possible to remove this software on an Android phone unless you have a rooted device.
Paul says you can stop Carrier IQ on iOS 5 devices by turning off "Diagnostics and Usage" in the Settings application.
What is Carrier IQ?
Carrier IQ is a California-based company that offers "accurate, real-time data" to carriers and device makers to help them improve their services. Carrier IQ's data is pulled from diagnostic software embedded on handsets that the carrier and/or device maker sells to customers. Carrier IQ says its diagnostic software provides "actionable intelligence" to improve network quality, understand device issues and ultimately improve the user experience.
Carrier IQ software is embedded on more than 140 million handsets worldwide.
Carrier IQ's response
Carrier IQ says its software does not record keystrokes, and does not inspect or report the content of your SMS messages or e-mail. Carrier IQ also said it does not provide tracking tools and does not sell the data it collects to third parties.
Instead, the company claims its software identifies handset performance issues such as dropped calls and poor network service.
Carrier IQ also denied providing "real-time data reporting to any customer." Which is confusing since the company's website states, "Carrier IQ's Mobile Service Intelligence solution eliminates guesswork by automatically providing accurate, real-time data direct from the source — your customers' handsets."
Did Carrier IQ do anything else?
On Nov. 16, Carrier IQ issued a cease-and-desist letter to Eckhart. The letter demanded that Eckhart remove his research from the Web and replace it with a statement prepared by the company that rebutted Eckhart's earlier claims.
The company also wanted Eckhart to remove Carrier IQ copyrighted materials that he posted on his website including company training materials that were previously available on the company's site. Carrier IQ also wanted a list of all the people (including their contact information) that Eckhart had shared Carrier IQ's copyrighted information with.
Eckhart received legal support from the Electronic Frontier Foundation on Nov. 21. Carrier IQ retracted its demands two days later and issued an apology to Eckhart.
What's next?
It's unclear what, if anything, will happen as a result of Eckhart's report. Carrier IQ says it plans on discussing its software with the Electronic Frontier Foundation, which may produce some answers as there are definitely some big questions that need to be answered. Not least of which is, "If Carrier IQ software is not logging keystrokes then why does it appear to be identifying them in the first place?"
Connect with Ian Paul (@ianpaul ) and Today@PCWorld on Twitter for the latest tech news and analysis.