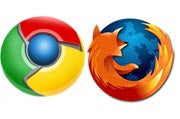 Google's Chrome Web browser has leapfrogged Firefox to claim the number two slot in the browser battle, according to Web analytics firm StatCounter.
Chrome held 25.69 percent of the worldwide market in November 2011 compared with Firefox's 25.23 percent. Internet Explorer remains the top browser globally with a 40.63 percent share of the market.
Of the top five browsers, only Chrome is seeing rapid growth — in November 2009, it held just under 5 percent of the market. Firefox and Internet Explorer have been slowly losing market share the past two years, while Safari and Opera have been more or less flat.
Chrome has often been cited for its superior speed and stability over other browsers. Each Chrome tab is assigned its own process, so one buggy site won't crash the whole browser. Recent versions of Firefox, by comparison, have seemed a bit slow and bloated. Word of mouth about Chrome seems to have slowly accelerated over the past few years, according to StatCounter data.
NetMarketShare, another Web analytics firm, shows Chrome still in third place, but on a similar trajectory to overtake Firefox soon.
In the United States alone, StatCounter finds Chrome still in third place, but also not by much.
Technically, it's still Microsoft's world on the Web, but not quite like it was in the days when Internet Explorer had more than 90 percent of the browser market. Perhaps by the time Windows XP is no longer a dominant operating system, Chrome may have a shot at the browser crown.
Email Eric at EMackPCW at Gmail, follow him on Twitter, and at ericmack.org. Follow PCWorld on Twitter, too.