The Asus Transformer Prime, the world's first quad-core tablet, is getting praise from reviewers, who say it might be the best Android tablet yet. Arriving Dec. 19 for $500 for the 32GB model or $600 for 64GB storage, the Transformer Prime impressed reviewers with its svelte design, speedy performance via the Nvidia Tegra 3 quad-core processor and camera quality.
The Asus Eee Pad Transformer Prime TF201 doesn't cut corners on specs. It has a 10.1-inch LED display with 1280-by-800 pixels resolution covered in Gorilla Glass, rocks a Tegra 3 processor running on four 1.3GHz chips and 1GB of RAM. The tablet comes with an 8-megapixel camera on the back and 1.3-megapixel one on the front, as well as microHDMI and microSD ports, all packed in a 8.3mm-thin bushed metal casing with a circular pattern.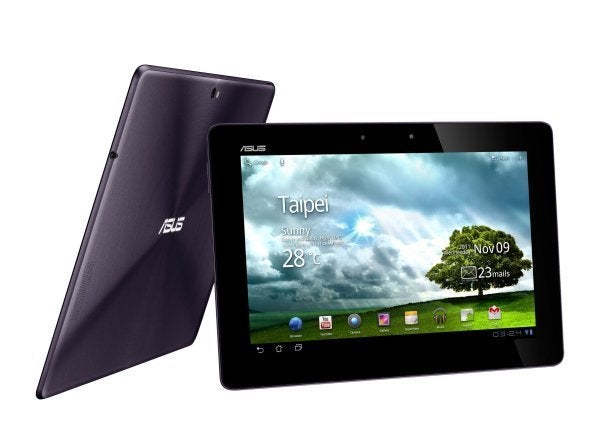 The Transformer Prime won't come with the latest and greatest Android software (4.0 Ice Cream Sandwich) out of the box. It comes with Android 3.2 Honeycomb and Asus says that it's going to get Ice Cream Sandwich at some point. Asus is also selling a keyboard docking station for the Prime ($150, sold separately), which has a chicklet keyboard, USB and SD card slots and promises up to 18 hours of extra battery juice, giving the Prime a MacBook Air-like allure.
Are reviewers falling In love?
PCWorld's Melissa J. Perenson noted in her review that the Transformer Prime "represents one of the best tablet values today." The tablet's performance "reset the bar on many of the PCWorld Labs' tests," while the high-resolution SuperIPS+ display performed well outdoor and indoor, though she noted the "air gap between the Gorilla Glass surface and LCD beneath is still noticeable, though it's smaller and less glarey than on the original Transformer." Overall, the Transformer Prime received top marks for "its brilliant design and its inner power. The docking station option makes it a superb choice for power users who want a tablet that converts into a productivity workhorse."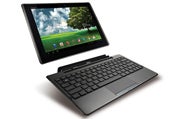 Reviewing for The Verge, Joanna Stern called the Transformer Prime "an incredible piece of hardware," because of its "marvelous display, form factor, the best camera on any tablet yet, and its new quad-core internal organ puts more graphics and gaming power in your hands than you'll know what to do with." Stern however noted Android Honeycomb "hasn't been optimized for that ridiculous processor or that beautiful display, the app selection remains pitiable at best, and it's just not that intuitive to use."
Engadget's Transformer Prime review mentions the Asus tablet overtook the Samsung Galaxy Tab 10.1 as the top-tier Android tablet, and because of its pricing, "it's a better deal than most of the top-tier contenders," calling it "the best Android tablet on the market." Engadget was not as enthused about the keyboard dock though, saying "the less you have to use that part the better, but it's still a perfectly usable way to enter URLs and it sure beats the pants off of any virtual, touchscreen text input method."
"Of course the Prime is better than other 10-inch Android tablets," wrote PCMag's Sascha Segan in his review. "It's faster, offers more performance options and has that awesome dock." He says "the Prime beats the iPad and even some laptops on specs. It's the finest Honeycomb tablet available. But its failings are Honeycomb's" when it comes to software.
Now, the hard decision: will it be an iPad 2 or an Asus Transformer Prime this Christmas? Sound off in the comments.
Follow Daniel Ionescu and Today @ PCWorld on Twitter