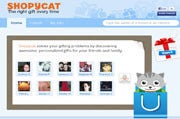 If you're not sure what to buy your friends for the holidays, and don't want to broadcast a lack of imagination with gift cards, Walmart offers Shopycat: A social shopping Facebook app that takes shared data from your friends' profiles and news feeds and transforms them into gift ideas.
Despite its ties to the controversial big box retailer, the Shopycat app–a product of Walmart's new found @WalmartLabs unit–is more diverse than you'd think, and a fair amount of fun.
How Shopycat Works
Shopycat takes your profile and news feed information and those of your friends, and runs them through Walmart's Social Genome technology (stemming from Walmart's recent acquisition of the startup Kosmix). It then matches the keywords that process provides with gift suggestions.
For instance, I like horror movies, so when Shopycat delved into my profile, it gave me a book on John Landis and a Roger Corman DVD box set–refreshing choices, given that the app could've just suggested The Texas Chainsaw Massacre or some other gimme.
What Shopycat Needs From Facebook
The company's blog gives assurance that the data collected is only what's on your personal Facebook profile, or what your friends are already publicly sharing with you. If that still sounds invasive, the access requirements of Shopycat are pretty much the same as most other Facebook apps: Your email address; profile activities, interests, likes, location, and relationship status; and your friend's activities, birthdays, interests, likes, and location.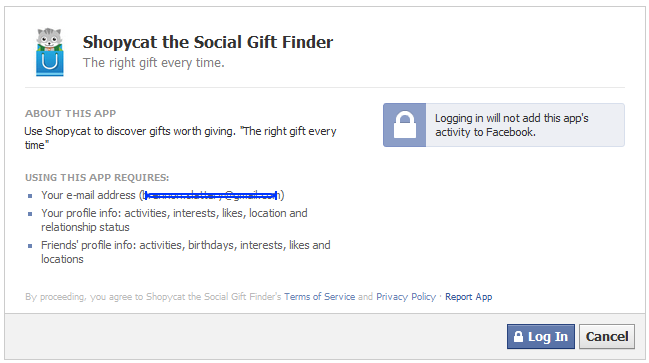 Walmart's privacy policy states that it does not sell or rent any of your provided information to third-party companies. And if you're cautious about installing an app associated with Walmart, Shopycat doesn't post anything on your news feed or inform your friends that you're digging through their profiles for last-minute stocking stuffers.
What Shopycat Will Find for You
Most surprising about Shopycat is that it isn't limited to what's on Walmart's shelves; the app scours other retailers like Barnes & Noble, RedEnvelope, ThinkGeek, Hot Topic, and many others. My personal interests were so "diverse" (read: nerdy) that actually, most of my gift suggestions were not to be found on Walmart.com.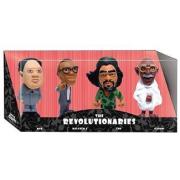 Walmart's choice to use a wider net of online retailers explained why Shopycat thought I'd enjoy the Little Giants Revolutionaries Mini-Figures boxed set; a collection of bobblehead-esque figurines of Mahatma Ghandi, Che Guevera, Malcolm X, and Mao Zedong. Interesting choice … but sadly, the site Walmart linked to, Entertainment Earth, removed my suddenly-much-coveted revolutionary figurines from its catalog.
If Shopycat's results aren't up to snuff, or your friends don't fill their Facebook feeds with capitalistic worship, Shopycat will go for the old standards: Gift cards. Sigh. But at least the selection, again, is more diverse, and it'll point you to places to buy cards like iTunes, Starbucks, and Zynga.
A lot of Shopycat's offerings are inexpensive, which is perfect for the kinds of friends (read: Facebook friends) who don't drool over brand new 3D HDTVs and would be content with, say, a $32 soft pretzel maker.