At a Glance
Expert's Rating
Pros
Unique design
Fast data speeds over AT&T HSPA+
Cons
Average camera
Phone is a bit awkward to hold
Our Verdict
If you're looking for an inexpensive Android phone with a few special features thrown in, the Pantech Pocket is ideal.
In a world of 4.3-inch, rectangular, black Android phones, the Pantech Pocket ($50 with a two-year contract from AT&T; price as of November 21, 2011) is refreshingly different in design. The Pocket's oversize display is great for e-reading and Web browsing, but some videos look strange in the 4:3 aspect ratio.
Unique Design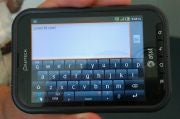 Measuring 4.5 by 3.0 by 0.44 inches, the Pocket is a bit on the short-and-squat side. It sports an unusual look, however, and the design is definitely eye-catching. It weighs a light 4.4 ounces. Unfortunately, it felt a little too wide for my hands, and it was a bit awkward to hold.
The Pocket has a textured plastic casing that, according to a Pantech representative, is built to resist scratches. The textured plastic feels nice in the hand, but having a built-in case is sort of strange. At least you'll be saving the extra $20 on a protective cover.
Below the display, you'll find the normal assortment of Android hardware buttons: Menu, Home, Back, and Search.
The 4-inch TFT SVGA display has a 600-by-800-pixel resolution with a 4:3 aspect ratio. The wider screen gives it the effect of a very small tablet. The display quality can't match, say, that of Samsung's Galaxy S II Super AMOLED Plus display, but the Pocket isn't exactly trying to compete with such higher-end phones anyway. The display is bright and crisp, and the size is ideal for browsing the Web and running apps.
Straightforward Software
The Pocket runs Android Gingerbread 2.3 with a custom overlay atop it. Generally we're not big fans of Android overlays, but Pantech keeps this one pretty lightweight. You get seven home screens to customize with widgets or shortcuts to apps. At the bottom of every home screen is a navigation bar with shortcuts to the dialer, your SMS messages, the browser, and the apps menu.
One of the advantages of a 4:3-aspect-ratio display is a roomier, more spacious software keyboard. I was able to bang out a few long messages comfortably, with few to no typos.
The wider screen also makes for nice e-reading. The Pocket comes preloaded with a Market link to Amazon's Kindle Reader, as well as Google Books. Other apps include AT&T Code Scanner, Document Viewer, Google Latitude, and YP. AT&T has also compiled a list of recommended apps to get you started in the Android world. Usually I'm against carrier/manufacturer-added software, but the Pocket does have a few useful apps, especially for users who are just getting to know Android.
Performance
I was a bit disappointed by how videos looked on the 4:3 display. In a video of Parks and Recreation, main character Leslie Knope's face was stretched out oddly, and playback over Wi-Fi wasn't nearly as smooth as it should have been. The Simpsons looked a little better, but it still had that slightly oblong look to it. On the other hand, YouTube looked great and played back smoothly, and everything looked proportional.
Nevertheless, overall the Pocket's 1GHz processor kept the phone running smoothly during my quick hands-on time. If you plan on multitasking with only a few apps, doing some basic Web browsing, playing casual games, and watching YouTube videos, the Pocket can accommodate you.
This Gingerbread phone also supports AT&T's faster HSPA+ "4G" network. Data speeds were quite impressive in our tests: With the FCC-approved Ookla Speedtest app, the Pocket achieved an average of 6.57 megabits per second for downloads and an average of 5.82 mbps for uploads. Those results are comparable to speeds we've seen over Verizon's 4G LTE network.
Call quality was pretty good over AT&T's network in San Francisco. Callers reported that my voice came through clear with an ample amount of volume, though my voice sounded slightly hollow and unnatural. One of my friends said that I sounded as if I were calling from a cave. My friends' voices also sounded hollow, though certainly clear enough. I experienced no dropped calls, nor did I hear any static.
Camera
The Pocket has a 5-megapixel camera with a flash and camcorder that can record up to 720p. Image quality was a bit on the mediocre side. Colors looked dull and washed out in both my indoor and outdoor shots. Details appeared slightly fuzzy as well.
The camcorder took sufficient video, but quite a bit of artifacting and pixelation marred my videos. Again, colors seemed dull and washed out.
Bottom Line
When AT&T introduced the Pocket at the CTIA show back in October, Pantech stated that the phone wasn't trying to compete with the Galaxys and Droids of the world. The Pocket is an inexpensive phone with a straightforward user interface and the bonus of an extrawide display and support for AT&T's HSPA+ network. The display doesn't work for everything: Some of the videos I tested looked warped. If you don't want to shell out a couple hundred dollars for an Android phone, however, the Pocket is a fine choice for using apps, browsing the Web, sending messages, and making calls.