If you rarely stray from Wi-Fi network areas and you're sick of high cell phone bills, you may find this new $19-a-month wireless service a very attractive proposition.
Republic Wireless launched earlier this month, and, so far, the service seems to work well.
Republic's hybrid system connects phones to a Wi-Fi network by default, but if it can't find a Wi-Fi network, then it will connect to a cellular network.
That means you can have unlimited voice, data, and text messaging while your phone is connected to a Wi-Fi network and limited use when connected to its partner Sprint's cellular network. Basic cellular limits are 550 voice minutes, 150 text messages and 300 megabytes (mb) of data. Those limits can be increased, though, based on your Wi-Fi usage. In other words, the more you use Wi-Fi, the larger your limits will be.
Another restriction on the service is its hardware. You have to use an LG Optimus S (more on that later) smartphone furnished to you by Republic after paying a $199 "membership fee." Republic explains in its promotional materials supplied with the phone that it thinks of itself as a "community" and its customers as "members." As such, you have a responsibility to use Wi-Fi as much as possible. If you rely on the cellular network too much, you can have your cellular privileges curtailed or suspended or be kicked out of the community entirely.
If you can live with those restrictions and don't mind a slightly outdated phone, then you will be happy with the $19 a month service with no contracts, termination fees, or overage charges.
Setting up the service is very easy. After charging the Optimus S, you turn it on, unlock the screen, go to 'settings' and drill to Wireless & Networks, then Wi-Fi settings. There you will see all Wi-Fi networks available at your location. Log in to one, and you're ready to go.
I did encounter a minor annoyance, though, when I initially logged onto my home network. I typed in my password incorrectly and didn't receive an error message. When I returned to the home screen, I was puzzled to find the Republic icon located in the top left corner of the display hadn't turned green, the signal that the phone was operating on Wi-Fi. Eventually, I figured out my mistake, but a simple error message would have saved me an unnecessary annoyance.
Once connected to my Wi-Fi network, I could make voice calls, surf the Web, send texts and play with apps–easily. The quality of voice calls when connected to my Wi-Fi network was excellent–crystal clear. When connected to the cellular network, call quality was as good as any typical cellphone.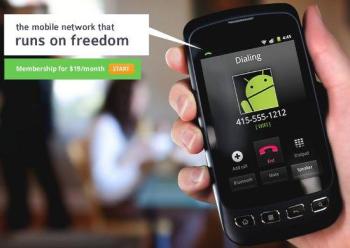 The smartphone Republic has chosen for its inaugural wave of subscribers, the LG Optimus S, has been in the market for about a year. The Optimus S has some nice features and is a good offering for smartphone newbies. The charcoal gray phone runs Android 2.3 (Gingerbread) is relatively thin at 0.52 inches, and has a bright and crisp 3.2-inch display, which is a bit on the small side compared to current mid-range phones.
Although it doesn't have a front-facing camera, it has a 3.2-megapixel rear facing one that shoots stills and standard video. The camera doesn't have a flash, but it does have a digital zoom, self-timer and controls for modifying white balance, contrast, saturation, sharpness and focus.
The Optimus S has 170MB of internal memory and a slot for microSD card storage as well as Bluetooth, GPS and EVDO support. In addition, it has the typical four Android buttons on its front–home, menu, back and search–and on its right side, oversized volume controls, as well as voice dialing and camera buttons.
If you're looking for the latest and greatest dual-core, giant display Android phone, you might be disappointed. But if you simply want to make calls, surf the Web and run basic apps, the Optimus S should be sufficient.
Some jaded mobile market watchers may see Republic's emphasis on community as marketing hype being used to mask a highly restrictive wireless service. For heavy users of cellular networks, that might be the case. But Republic never tries to hide what it's offering and for whom. For many consumers, who want to be part of the smartphone generation, but can't afford the crushing costs of a data plan, Republic is an outstanding alternative.
Follow freelance technology writer John P. Mello Jr. and Today@PCWorld on Twitter.