At a Glance
Expert's Rating
Pros
Lightweight
Slim
Solid build
Cons
Flat keyboard deck
Requires USB cable for charging
Our Verdict
The slim Toshiba tablet keyboard is the most portable of the bunch, if you don't mind using a flat keyboard and having to deal with an extra cable for charging.
Tablets are an increasingly popular mobile-computing choice, but their touchscreen keyboards aren't necessarily conducive for typing out reports or the next great novel. If you need to maximize your productivity on a tablet, you should add a physical keyboard. Not only will a physical keyboard help you type faster, but it will also free up valuable screen real estate that the on-screen keyboard would otherwise use.
You can find many tablet-keyboard options, among them third-party offerings (we'll cover those in a separate roundup) and those from tablet makers. One advantage to choosing a keyboard from your tablet maker is that it may be designed to match up physically with the tablet. And if you have an Android tablet, the keyboard should have Android-specific keys; selecting the keyboard made by the same manufacturer as your tablet means that those Android keys are more likely to work as intended. When we played mix-and-match, the majority of Android-specific keys didn't work properly.
Most tablet keyboards are designed to pair wirelessly over Bluetooth. With no physical connection to worry about, you can easily grab the tablet and walk away when you don't need the keyboard. On the downside, since such keyboards aren't attached to the tablet, they provide no support for keeping the slate propped up at a good reading angle. As a result, with these stand-alone keyboards, you'll also want to buy a stand or case that will help keep the tablet upright on the table while your hands are busy typing.
Other disadvantages include the need to charge the keyboard separately, as well as having to remember to turn it off when you're done (and especially before you pack it in your bag, if you don't want any accidental key presses on the way). Plus, you can't use a Bluetooth keyboard on an airplane, which may be a deal breaker for road warriors. (If that's a concern for you, stay tuned for our look at tablet keyboards with direct connections.)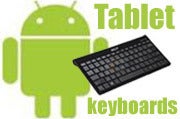 I tested tablet keyboards from Acer, Motorola, Samsung, Sony, and Toshiba. However, picking the right tablet keyboard is a personal choice, as we all have different typing styles, preferences, and hand sizes. With that in mind, I settled on a few favorites, each for different reasons.
If you have a Samsung Galaxy Tab 10.1 tablet, the Samsung keyboard case is stylish and protective. It doesn't add much bulk, and it creates a compact, grab-and-go tablet-and-keyboard combination. The good key response helps to compensate for the flat deck, making for comfortable typing.
The Acer keyboard offers a good balance of portability, comfort, and affordability. And Sony's keyboard has a great design, and is a good pick for anyone who must have full-size keys.
To read more about these Android keyboards, click the links below.
Acer Bluetooth Keyboard for Acer Iconia Tab
Motorola Wireless Bluetooth Keyboard
Samsung Galaxy Tab 10.1 Bluetooth Keyboard Case
Sony Tablet S Bluetooth Keyboard