At a Glance
Expert's Rating
Pros
Lightweight
Solid build
Slim
Cons
Requires USB cable for charging
Flat keyboard deck
Our Verdict
The slim Toshiba tablet keyboard is the most portable of the bunch, if you don't mind using a flat keyboard and having to deal with an extra cable for charging.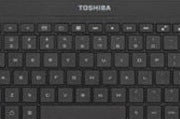 The Toshiba Wireless Keyboard ($70 as of December 1, 2011) is the slimmest Bluetooth tablet keyboard I've tested to date. That thinness is mostly due to the fact that it uses a built-in battery instead of a pair of AAA's. You can recharge the keyboard through the included Micro-USB cable. And since the Toshiba Thrive tablet has a full-size USB port, you can even charge the keyboard directly via the tablet.
A switch on the bottom allows you to turn the keyboard on and off, and a small but difficult-to-press button lets you put it in pairing mode. LEDs in two of the top-row keys indicate the power state and battery state.
The lack of a battery bump saves some thickness, but it also means that the keyboard sits flat on a desk. If you're the kind of person who likes some tilt, this may not be the keyboard for you. The flat design, however, permits the keyboard to slide into a bag without creating extra bulk. It will also stay put on the desk while you're typing away, as the rubber grips on the bottom are long strips that hold firm. That firmness, combined with the solid build, gives this keyboard a stable feeling while you pound away at the keys.
The flat, matte-plastic, island-style keys are sturdy and well spaced, although they're closer to netbook spacing than to full-size desktop spacing. I like how the Shift keys are both full-size and positioned in convenient places, where you'd expect them to be. The up and down arrow keys are half-size, to make room for the full-size right Shift. The feedback was a little stiff for my taste, but key travel felt good as I typed. On the top row, you get keys for opening and controlling your tablet's Web browser, accessing email, using the file manager, and opening the calendar, as well as playback controls and a key for locking the screen. Along the bottom are keys that correspond to the Android navigation keys: back, home, menu, and search.