At a Glance
Expert's Rating
Pros
Uses standard AAA batteries
Inexpensive
Good tilt
Our Verdict
Acer's inexpensive tablet keyboard is light and easy to travel with, yet it still provides keys with satisfactory response and a good tilt.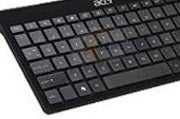 The Acer Bluetooth Keyboard for Acer Iconia Tab ($46 as of December 1, 2011) is among the more lightweight and compact portable tablet keyboards I've tested. This model requires two AAA batteries, which come in the box. The battery bump in the back gives the keyboard a slight tilt that makes typing comfortable–but it also makes the keyboard fit a little more awkwardly in a bag. The keyboard has a physical switch on the bottom for turning it on and off, as well as an easy-to-press connect button for putting it in pairing mode. You'll also find two LEDs in the top-row keys that indicate the power state and battery state.
Along the top row, you get dedicated buttons for back, search, volume, Internet, email, camera, file browser, music launcher and playback, and lock. At the bottom row sit the home and menu buttons.
With a design that's akin to the keys on a netbook, the keys on this model appear identical to the ones on the Toshiba tablet keyboard I tested in the same batch. They have the same matte-black plastic texture, in addition to the same size, spacing, feedback, and key travel.
The two keyboards differ in several ways, though. For starters, the function keys have different labels on them. In addition, I have smaller hands and don't mind a netbook-size layout, and the angle from the battery bump made this keyboard more comfortable for me than Toshiba's flat keyboard. Plus, I liked the fact that Acer's keyboard used standard batteries, which meant that I didn't have to remember to charge it in advance.
While the keys are similar to those of Toshiba's offering, however, the Acer keyboard has a very different feel overall. Whereas the more expensive Toshiba keyboard feels solid, the Acer seems more flimsy and plasticky. It's also noisier to use, as the whole thing rattled more on the desk when I typed quickly.