At a Glance
Expert's Rating
Pros
Uses regular AA batteries
Full-size keys
Our Verdict
Motorola's keyboard is full size and well priced, but the quality and feedback of the keys are lacking.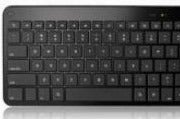 The Motorola Wireless Keyboard ($40 as of December 1, 2011) provides a whole lot of Bluetooth, since Motorola is, for an unspecified time, selling the keyboard along with a free Bluetooth mouse. Although built of plastic, the Motorola keyboard happens to be one of the larger and heavier Bluetooth tablet keyboards I've reviewed. It's also one of the few models with full-size keys, which may make a big difference for users with large hands or for touch typists who prefer a roomier, more standard keyboard.
This keyboard comes with two AA batteries. The battery enclosure creates a pleasing typing angle, higher than the angle you get from the AAA batteries in Acer's keyboard. Combined with the full-size keys, this battery enclosure makes the Motorola keyboard one of the larger and heavier ones of the batch. The power button on the back doubles as the connection button: It puts the keyboard in pairing mode when you hold it for a few seconds. (Most other keyboards have a separate button to initiate pairing.) A separate indicator LED sits above the top row of function keys.
Oddly, compared with the other keyboards I tested, I ran into more issues trying to pair this keyboard. Motorola advertises this keyboard as compatible with any Android tablet or phone that supports the Bluetooth HID (Human Interface Device) profile, but getting it to pair to something other than a Motorola Xoom necessitated putting it in computer pairing mode, which required me to hold down the A, R, and V keys simultaneously while turning the keyboard on. To figure out that procedure, I had to read the manual (something I didn't need to do for any other keyboard I've tested).
The keys are generously spaced compared with the more compact keyboards I've seen, but the feedback is wimpy and mushy, and the keys are a smooth plastic texture, which I didn't find as pleasant to type on as the textured matte keys of other keyboards. A row of Android-specific controls sits on top, but if you have to pair the keyboard and tablet in computer mode, none of those will work–which makes this tablet a poor choice unless you're using it specifically with a Motorola Xoom. The standard Android pairing mode (which is what it uses for pairing with the Xoom) gives you dedicated buttons for back, playback controls, volume, music, Internet, chat, file browser, email, menu, and home along the top, plus two search buttons and an app launcher on the bottom.
Unless you have a Motorola Xoom and absolutely want the tablet-specific buttons, you can find more comfortable portable Bluetooth keyboards with full-size keys.