At a Glance
Expert's Rating
Pros
Good feedback
Full-size keys
Comfortable typing
Cons
Expensive
Android function buttons are hard to press
Our Verdict
Sony's keyboard is on the high end pricewise, but it offers comfortable full-size typing plus some Android-specific function keys.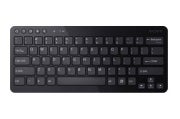 The Sony Tablet S Bluetooth Keyboard ($70 as of December 1, 2011) has one of the best designs I've seen. It offers full-size keys that make for comfortable typing.
Powered by two AA batteries, the Sony Tablet S keyboard has a large battery bump at back, which gives it the highest tilt of the tablet keyboards I've tested, including even the Motorola keyboard. The typing angle is a little higher than what I personally like, but I still found it comfortable, and it didn't slow my typing down. Sitting on the battery bump are the on/off switch and the connect button; both are large, easy to reach, and easy to press. Separate LEDs at the top indicate caps lock, wireless status and pairing mode, and battery level.
The full-size keys are matte-black plastic, and have the most texture of any of the keyboards I tested recently. This great surface texture, combined with the generous spacing between the island-style keys, made it easy to feel the individual keys under my fingers. When typing, I also found that the key feedback was firm, and that the key travel was comfortably deep. On the whole, this was a pleasant keyboard to type on.
The keyboard itself is very thin, a contrast to the thick battery bump. The glossy plastic overlay sticks out over the edge of the matte-plastic back, producing some sharp edges, but that might affect you only if you awkwardly grab for the keyboard while it's in your bag. The keyboard's rubber feet are large and grippy enough for the whole thing to feel solid on a desk, even under fast or heavy typing.
Sony takes a different approach to covering the Android function keys. Unlike other keyboard makers, which typically replace the normal function-key row with Android-specific buttons, Sony removed the standard keys completely in favor of small, round buttons, an approach that's more like what you often see on multimedia desktop keyboards. Sony's Android shortcut buttons include controls for back, home, multitasking, menu, and search, all sitting along the top-left side of the keyboard. Unfortunately, I found those keys much harder to press than the regular keys; this was my only issue with Sony's otherwise well-designed keyboard.