At a Glance
Expert's Rating
Pros
Very slim
Full case provides protection and a stand
USB cable required for charging
Our Verdict
It may be pricey, but the Samsung Bluetooth keyboard case provides protection, a stand, and a keyboard all in one package.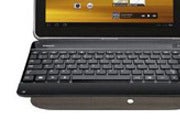 The Samsung Galaxy Tab 10.1 Bluetooth Keyboard Case ($150 as of December 1, 2011) is, as its name implies, designed to work with the Galaxy Tab 10.1 tablet. Among Android tablets, the Tab 10.1 is the only model that has a made-to-match Bluetooth keyboard case.
For that matter, of the keyboard cases I've seen for Android tablets and Apple's iPad, this is the thinnest, sleekest option out there. With the Tab inside, the case stands at about three-quarters of an inch, which makes it just a bit thicker than the Toshiba Thrive tablet without a case. I would consider the resulting, highly portable combination sleek even if it were just a folio cover, so the fact that it has a full Bluetooth keyboard inside makes it even more amazing. The case also has a built-in stand to keep the tablet propped up on a table–a huge benefit.
The main trade-off for achieving such a slim design? The battery is built in, and charges via a Micro-USB cable.
Another issue is that the keyboard sits perfectly flat. It feels as if you're typing straight down on the desk, which isn't the most comfortable position for extended typing sessions. In addition, you don't get much clearance with the keyboard close against the screen. The keys are matte plastic and small, and Samsung has reduced the right Shift key in favor of full-size up and down arrow keys.
Still, I found the keyboard highly usable in most scenarios. I might not want to type the Great American Novel on it, but it's still a significant improvement over an on-screen keyboard. Even with such a thin design and shallow key travel, Samsung has managed to keep the key feedback solid. I adjusted quickly to the keys, and was able to type without fatigue.
The only other little annoyance is that the flap that holds the case closed ends up under your wrists when the case is open, and it doesn't lie flat.
Along the top row are buttons for back, home, open programs, Internet, mail, lock, brightness controls, volume controls, playback controls, all apps, and menu. Across the bottom are a keyboard toggle (which is useful when the on-screen keyboard keeps popping up despite your having the Bluetooth keyboard on and paired), plus buttons for search, voice command, the language switcher, and a notification pull-up. Samsung's set of Android-specific controls is the most full featured I've seen on a Bluetooth tablet keyboard.
The convenience of the integrated case and keyboard design makes the Samsung offering a winner, in spite of a few design points that frustrated me.