Hard-drive maker Western Digital has resumed the partial production of hard drives in Thailand, but also warned that some of its operations were still under water from the severe floods that hit the country starting late July.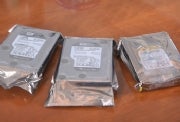 The company restarted production of hard drives this week in one of its buildings in Bang Pa-in, after the facility was submerged in six feet of water since October 15, WD said in a statement on Thursday. Flood water was pumped out from the facility on November 17 and power was restored on November 26.
But while some recovery was ahead of schedule, "much work remains to be done," said John Coyne, CEO of WD said.
WD's other Thailand hard drive facilities at Navanakorn remain under two feet of water, the company said. The estate hosting the buildings is expected to be "pumped dry within ten days" after which the area will be decontaminated and restored, the company said. WD did not specify when hard-drive production will be restored in the estate.
Other buildings at the Bang Pa-in facilities are being decontaminated and restored, and some production is expected to resume in the March quarter, which is the third quarter of fiscal 2012, the company said.
WD said worldwide hard drive shipments in the fourth calendar quarter would be around 120 million, far short of the estimated demand of 170 million to 180 million units. The prediction falls in line with the estimated hard drive shipments of 125 million units, a 28 percent drop from the third quarter, predicted by research firm IHS iSuppli.
The floods have also affected the operations of top hard-drive makers Seagate and Toshiba. Hard-drive prices have gone up in the wake of supply shortages, and top PC makers such as Dell and Hewlett-Packard expect the hard-drive prices to go up into early next year.
Independent computer makers are already bearing the brunt of the hard-drive shortages, and have raised PC prices by up to 20 percent to cover the premium involved in acquiring hard drives through distributors or the open market. By comparison, large PC makers are for now able to keep PC prices low as they retain months of hard-drive supplies, analysts said.
Analysts are predicting hard-drive prices to go up by around 30 percent during the fourth quarter this year compared to the third quarter. PC makers have said prices are especially skyrocketing on higher-capacity drives of 500GB and more.
After charges related to damages caused by the floods, WD expects revenue of at least US$1.8 billion for the second fiscal quarter of 2012.