An Australian court has extended the sales ban on Samsung Electronics' Galaxy Tab 10.1 until December 9, giving Apple more time to come up with reasons why the tablet should not be allowed to go on sale.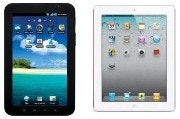 The news comes after the court decided to overturn the injunction which banned the sale of the Samsung tablet in Australia earlier this week.
"The High Court of Australia has granted a stay until December 9 to allow it to consider whether to accept Apple's application for special leave to appeal," said a Samsung spokesman via email.
Samsung believes Apple has no basis for its appeals application, and will vigorously oppose this, it said.
Apple didn't return questions for a comment on the latest development in its legal battle with Samsung, but the company seems intent on keeping Samsung's tablets off store shelves across the world.
Besides Australia, Appleis also trying to stop Samsung from selling a modified version of the Galaxy Tab 10.1 that Samsung released in Germany in an effort to dodge an earlier injunction.
Apple has always maintained that Samsung has blatantly copied the iPad, including the shape of the hardware, the user interface, and even the packaging.
The holiday shopping season has started, and for Samsung it is important to remove the sales ban in Australia as soon as possible and keep the modified Galaxy Tab 10.1N on sale in Germany.