SpectrumCo, a joint venture among Comcast, Time Warner Cable and Bright House Networks, has agreed to sell mobile spectrum licenses covering 259 million U.S. residents to Verizon Wireless for US$3.6 billion, the companies announced Friday.
The deal, for 122 Advanced Wireless Services (AWS) licenses, will give Comcast $2.3 billion and Time Warner $1.1 billion, based on their ownership stakes in SpectrumCo. The joint venture paid $2.4 billion for 137 AWS licenses in a 2006 auction at the U.S. Federal Communications Commission.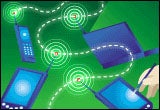 SpectrumCo has been criticized by the National Association of Broadcasters for not using, or "hoarding," the spectrum while the FCC and mobile carriers press TV stations to give up some of their spectrum.
The spectrum purchase, subject to FCC approval, will help Verizon Wireless deal with growing spectrum demands from mobile customers, the companies said. "This sale of spectrum is an important step toward ensuring that the needs and desires of consumers for additional mobile services will not be thwarted by the current spectrum shortage," Comcast said in a statement.
The spectrum will allow Verizon to bring better 4G services to its customers, said Dan Mead, president and CEO of Verizon Wireless. "Spectrum is the raw material on which wireless networks are built, and buying the AWS spectrum now solidifies our network leadership into the future," he said in a statement.
The companies also entered into other agreements. The cable companies and Verizon Wireless will sell each other's products, and the cable companies will, in the future, have the option of selling Verizon Wireless service on a wholesale basis, the companies said. Verizon and the cable companies have also formed a joint venture to develop technology to better integrate wireline and wireless products and services, the companies said in a press release.
The deal comes days after the FCC announced that staff had found that the proposed $39 billion acquisition of T-Mobile USA by AT&T is not in the public interest.
The deal is good for both sides, said independent telecom analyst Jeff Kagan. "This looks like it is the end of the line for the cable television industry trying to be a player in the wireless space using their own networks," he said in an email. "The cable television industry has tried to get into wireless in recent years and they have failed."
SpectrumCo didn't "think like a wireless company," he added.
The deal makes sense for Verizon as it faces capacity problems in coming years, Kagan said. "Demand for wireless data services has exploded in the last four years and I don't see it slowing down in the near future," he said. "I'll bet AT&T wishes they could have got their hands on this spectrum. That would have solved their problem, but they are taking a different path by trying to acquire T-Mobile."
Grant Gross covers technology and telecom policy in the U.S. government for The IDG News Service. Follow Grant on Twitter at GrantGross. Grant's e-mail address is grant_gross@idg.com.