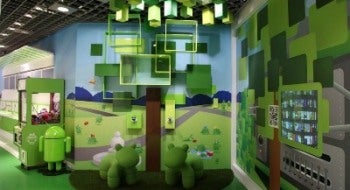 The Android army finally has a retail store to call home — in Melbourne, Australia.
Androidland, which opened this week, is a store within a store, dedicated to Android phones and tablets. Australian carrier Telstra designed the shop in collaboration with Google, HTC, LG, Motorola, Samsung, and Sony Ericsson. They've been working on it since July.
Unlike Apple's retail stores, with their clean, minimal designs, Androidland strives for sensory overload.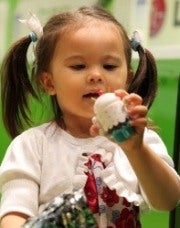 Upon entering the store, shoppers will find little green robots galore, games to play and rows upon rows of gadgets. At the center is the "spaceship," where customers can create Android-style avatars of themselves, play Angry Birds on a giant touchscreen, and use Google Earth on a nine-panel display.
To make sure no sense is unstimulated, parts of the store emit a scent of gingerbread — a reference to version 2.3 of Google's mobile OS — and staff have been handing out gingerbread treats to customers as well. (Apparently ice cream sandwiches aren't available yet.)
It's not clear whether Androidland will be a permanent installation in Telstra's flagship Melbourne store. But for now, if you're in the area, you'll find it at 246 Bourke Street, open seven days a week.
Follow Jared on Facebook and Twitter or Google+ as well as Today @ PCWorld for even more tech news and commentary.