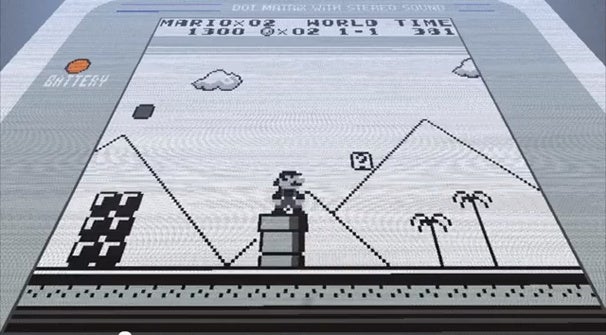 At first glance this video (below) might seem like a simple two-minute and 20-second video of the first level in Super Mario Land. But it's not. It was actually made in Minecraft using over 18 million blocks and 500 man-hours.
James Wright, Joe Ciappa, and a gamer known as Tempusmori of the site and Minecraft server Minecrafta2z.net, created this mind-blowing homage. They first started off with building a life-sized GameBoy in Minecraft, which they could use to emulate any Nintendo handheld game they wanted, including Pac-Man and Space Invaders.
The screen on the GameBoy is also 1:1 in size, measuring 160 blocks across and 144 blocks tall. That means every screen was recreated pixel-by-pixel with 23,040 blocks. Each frame was created with dyed-wool blocks (oh, all those harvested, naked virtual sheep) and snapped up with a screenshot from above. After taking each screenshot, the team of three would have to manually shift every block for the next screen of the side-scrolling action, and repeat the process all over again. The only thing that was sequenced was the music using Note Blocks.
The video you see is actually made a total of 800 shots complied in a moviemaker, each set to appear for 0.165 of a second. The project took a total of four weeks, 7-days a week, and six to seven work hours a day.
[Minecrafta2z via Kotaku and Engadget]
Like this? You might also enjoy…
Get your GeekTech on: Twitter – Facebook – RSS | Tip us off