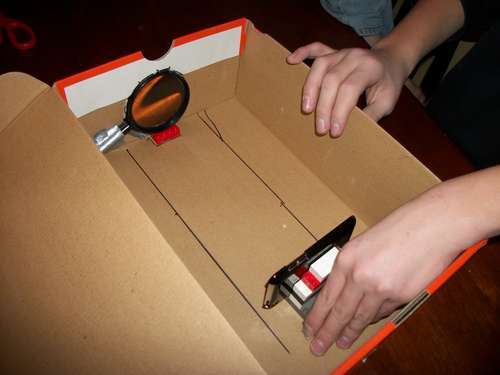 Trying to show off your latest iPhone-filmed video or a slideshow of photos without a projector is a bit of a pain. But you don't need a projector–all you need are a few other household items.
An Instructables member aptly named "Imalegend" created this DIY iPhone projector using a shoebox, duct tape, a marker, a few of Lego bricks and a magnifying glass. You'll also need a knife and a hot glue gun too. According to its creator, the whole thing only cost about a dollar to make, but if you have all these items already, you won't have to pay for anything else.
You place the magnifying glass on one side of the box, and you put your iPhone or iPod directly behind it on the other side, propped up by the Lego bricks (if you have a small stand for your iDevice, you could probably used this too). Cover any other holes in the box (to prevent unwanted light from seeping in), and voila you've got a projector box in minutes.
As with professional projector boxes, this little hack-together works by the light of the cellphone going through the magnifying glass, and then projecting onto the wall (or projector screen, which by the way you can make from wax paper and other materials). This is a very simple project, and can be used with other phones or gadgets with small screens too.
Like this? You might also enjoy…
Get more GeekTech: Twitter – Facebook – RSS | Tip us off