At a Glance
Expert's Rating
Pros
Good 8-megapixel camera
Smooth performance
Gorgeous Super AMOLED display
Cons
Faint hiss in background of some calls
Phone feels a bit plasticky
Windows Phone 7 has some limitations
Our Verdict
The Samsung Focus S is the best Windows Phone available with smooth performance, a great camera and a gorgeous display.
The Samsung Focus was my favorite of the first generation Windows Phones so I was excited when I heard that Samsung was releasing not one, but two new versions of the Focus with the Mango 7.5 update. The Samsung Focus S ($100 with a two-year contract from AT&T; price as of 12/2/11) has a larger display, a thinner profile and faster processor than the original Focus (see our review of the less expensive Focus Flash, the other new Windows Phone). All of these features combined with the slick "Mango" update makes the Focus S the Windows Phone to get.
Thin Design
The Focus S's design screams Samsung with its glossy piano black bezel, textured battery cover and subtle curves. Like pretty much every Samsung phone ever, the Focus S is a bit on the plasticky side, but it feels sturdy and solid enough to withstand day-to-day use. The Focus S's shape is more squared than the original Focus, and of course, thinner at 0.33 inches.
Design-wise, the Focus S is actually quite similar to the Samsung Galaxy S II Android phones. Obviously, the Focus S has Windows Phone touch-sensitive buttons below the display as opposed to the Android ones. It is also missing a MicroSD slot as Windows Phones don't have expandable memory (though you do get 25GB of free cloud storage via Microsoft's Skydrive in addition to the phone's 16GB of built-in storage).
Like the AT&T Galaxy S II phone, the Focus S rocks a 4.3-inch Super AMOLED Plus display. The Focus S's colors looked bright, details were crisp, and the viewing angles were very good. Blacks were deep, and colors were richly saturated without being overdone. Whites have a bit of a bluish tint, but it wasn't too noticeable. One of the benefits of AMOLED displays is their performance in bright sunlight. Outdoors, the Focus S's display remains incredibly visible. According to Samsung, Super AMOLED Plus displays have 50 percent more subpixels than the first-generation Super AMOLED displays (seen on the Vibrant, Mesmerize, and other Galaxy S phones) and perform even better than their predecessors in bright light.
Windows Phone Mango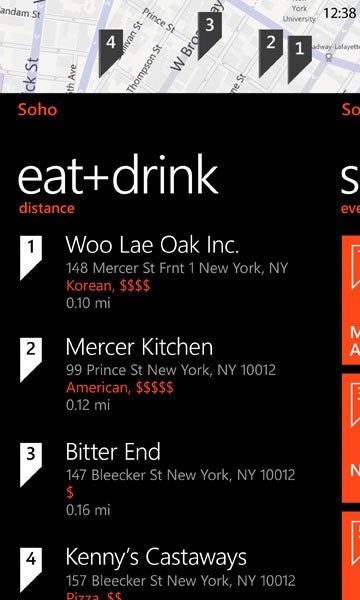 I've covered the Mango update quite a bit, but I'll briefly review some of its best features. For the most part, Mango looks and behaves similarly to the first version of Windows Phone 7, but it offers some very significant additions. For a general overview of Windows Phone 7, go here. For a first look at the new features in Mango, go here.
With Mango, you finally get true multitasking with third-party apps, as well as Internet Explorer 9. You can quickly switch among recently used applications by pressing and holding the back button. All of your open apps are elegantly displayed in chronological order based on when you last used them.
All of your Hubs have been enhanced with sweet new features. For example, the People Hub connects Facebook, Twitter, Outlook, LinkedIn, and Windows Live Messenger in one place, so you don't have to jump from app to app to communicate with your friends and colleagues. You can also group and categorize your contacts based on how you think of them–friends, coworkers, enemies, or whatever.
The Bing search engine gets a complete makeover. A new feature called Local Scout uses GPS to recognize where you are and then provides you with hyperlocal search results based on your preferences. Another cool and useful feature in Bing is Music search, which works sort of like Shazam on iOS and Android.
And of course, you get all of the great features of Windows Phone 7 such as Microsoft Office (you can create, edit, and view Excel spreadsheets, Word docs, and PowerPoint presentations), XBox Live, and the Zune media player.
Microsoft doesn't allow manufacturers to create custom skins (like Samsung's TouchWiz for its Android phones), but Samsung and AT&T have thrown in a few apps, like Samsung's Photo Studio for editing your pictures, YP Mobile, and AT&T's suite of apps like myWireless, Navigator, Radio and others. There's also a Samsung-made tile called "Now," which lets you check weather, stocks, top Tweets, news, etc.
Performance
Windows Phone 7.5 already felt lightweight and speedy on the original Focus, which was powered by a 1GHz Qualcomm Snapdragon processor. The Focus S has a single core 1.4GHz processor (sorry, no dual-core for Windows Phones yet) and I could definitely see a difference in speediness of apps, fluidity of menus and Website load times between the two phones.
The Focus S supports AT&T's HSPA+ "4G" network (not to be confused with its faster, LTE 4G network). We saw pretty impressive speeds on the Pantech Pocket (average of 6.57 megabits per second for downloads and an average of 5.82 mbps for uploads), an Android-based HSPA+ phone on AT&T, so I was hoping for similar speeds on the Focus S. Unfortunately, the FCC-approved Ookla Speedtest app is not yet available for Windows Phones. I used another data speed testing app and got much lower results. In my hands-on use, however, I found that the Focus S loaded Web pages quickly and streamed video smoothly over AT&T's HSPA+ network.
Call quality was a bit spotty. While my callers reported overall good quality on their end, I heard a faint hiss in the background of a few of my calls. My friends also sounded a bit distant, like they weren't holding their phones close enough to their faces.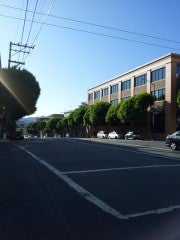 Solid Camera
The Focus S has an 8-megapixel rear-facing camera and a 1.3-megapixel
front-facing camera. My outdoor photos looked great: The camera handles shadows and light contrast quite well. Colors looked natural and details appeared sharp. My indoor photos looked good too though details weren't as sharp and colors looked a bit oversaturated.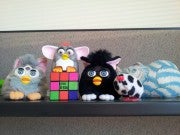 All Windows Phones have a dedicated shutter key, which I always appreciate. It is so much easier to get a steady shot with a hardware shutter key as opposed to an on-screen software key. Another bonus: When you press the shutter key, the camera app automatically launches, even when the phone is locked.
Bottom Line
Out of all the Windows Phones currently available, the Focus S is the most enticing. If you're not interested in the iPhone 4S and find Android confusing, the Focus S might be for you. You'll especially like it if you rely on Microsoft products, like Office or Outlook, for work. If you love jailbreaking and installing custom mods on your phone, however, though, Windows Phone Mango's limited customization options won't appeal. The Samsung Focus S's brilliant display, fluid performance and bevy of features make it the Windows Phone to beat. .